I am fascinated with kamado grills as well and I know your struggle all too well when it comes to purchasing a new kamado.
Just like in case of any other grill, you will find dozens of different ceramic grills on the market, which makes the final choice all the more difficult. Choosing a new kamado gets complicated by the fact that the difference in their prices is very big.
The cheapest kamado grill smokers cost from $100 to as much as few thousand dollars. So how to buy one that is 100% worth the price and will live up to your expectations?
First and foremost, you have to understand what excatly you need and how much you are planning to spend on a new kamado. You have to know that a good kamado grill usually costs few hundred dollars.
Take a look at the list of the best kamado grills you can buy in 2021:
1. Best Overall

Kamado Joe Classic II

Cooking Space

406 sq. in.

Type

Ceramic

Warranty

Lifetime on ceramic parts

Air Lift Hinge

Check Latest Price →

2.Best Mid-Range

Char Griller Akorn

Cooking Space

447 sq. in.

Type

Steel

Warranty

Limited warranty ( 1-5 Years )

Check Latest Price →

3. Best Budget Pick

Char Griller Akorn Jr.

Cooking Space

153 sq. in.

Type

Steel

Warranty

Limited warranty ( 1-5 Years )

Check Latest Price →

4. Also good

Pit Boss Kamado Grill

Cooking Space

570 sq. in.

Type

Ceramic

Warranty

Limited lifetime warranty

Check on Amazon →
The 4 Best Kamado Grill Reviews - Top Picks
There are plenty of kamado grills on the market, but they differ in the material they were made of, size and features. Four out of the best options can be found below including the best ceramic grill that is much better than the steel version but also much more expensive.
The king among kamado grills when it comes to quality of elements, durability, size and features.
Sadly, the price might be too high for many, but taking all the characteristics of this grill into account, I have to say that it is the best kamado grill, 100% worth its money.
In the competition between kamado joe vs big green egg, Kamado Joe Classic II is definitely the winner (I suggest read my comparison in which you will see the differences between those popular grills). 
Of course, there is no difference in the flavor of food, but it wins the comparison if we take functionality and the quality of elements into account.
I know, the price is high, but it's fully adequate to the quality and efficiency. If you're looking for a high-quality kamado grill and price doesn't matter to you, then just go ahead and take Kamado Joe Classic II, you will surely not regret it.
Quality elements and solutions in this ceramic grill make Kamado Joe Classic II the number one among kamados.
Kamados are characterized by their large mass and weight, their cover is heavy which requires one to be careful when closing and opening it. When it comes to Kamado Joe Classic II, on the other hand, a supporting mechanism was introduced that makes it possible to safely lift the lid without using force even with just two fingers. Another upside is that when you let go off the lid, it stays in the same position instead of slamming hard, as is the case with the popular Green Egg.
The stainless steel grates offer a two position height adjustment. You can set two halves of the grates at two different heights which allows to cook at two different temperatures.
At the bottom you will find draft door that you can set in different positions, decreasing or increasing the air flow accordingly and controlling the temperature inside the grill securely. There's a removable ash tray behind them that makes it possible to get rid of the ash quickly and easily.
Located on the top of the grill is a cap that makes it possible to control the air flow. It was made of cast aluminum which makes it much more durable (aluminum is rust resistant). The chimney cap allows for an easy several degree control of the air flow while also protecting the holes from water in case of rain. If you wish to increase the air flow to the max, it is possible to rotate the upper part of the chimney's cap, revealing a big opening. The upper part can be removed any time without using any tools and washed.
What is shipping and assembly like? The grill is fully assembled and professionally packed with all the covers that are good at protecting it from unwanted damage during transport. In my eyes it definitely beats Green Egg because all the little details were taken care of here, it is simply a kamado grill that is much better thought-out and better finished.
Lifetime warranty
High Quality
Air Lift Hinge
Despite its high price, it is most certainly worth your money. Efficiency, large cooking area, a supporting lid opening mechanism, and high quality of details all make it the best option. I think that you won't find a better one – a high-quality product that is worth its price.
Of course I do understand that not everyone wants to spend this kind of money on a grill, which is why you should check my other mid-tier and budget kamado grills.
Another Kamado Kooker from Char-Griller. This one is also made of steel which has its downsides and upsides. It warms up definitely faster and is lighter than a ceramic kamado, but the downside is its durability due to being made of steel.
It is not a perfect grill, but for this kind of price it's a very good choice for beginners, unlike spending 800-1500~ dollars on their first kamado.
If you fall in love with the kamado style and learned to cook with him, you can later easily spend a lot of money on a high-quality kamado that will serve you for many years without causing problems.
Obviously, the price is much lower than for high quality ceramic grills (several times lower), which makes it a great choice for those with lower budget who want to have a good quality, efficient kamado grill for a small price.
Efficiency and functionality are at a satisfying (high) level, close to the high-quality ceramic grills for more than one thousand dollars (Big Green Egg or Kamado Joe Classic II).
Adjustable dampers on the top and the bottom allow for an easy temperature control. Char-Griller Akorn is great at maintaining temperature within the range of 200-700 degrees F.
Inside, you will find area of 314 square inches plus 133 square inches of a heated rack that you can take out any moment. On top of that, you also have two foldable shelves at your disposal as well as ability to move your grill around, as it's equipped with two 8 inch wheels.
Worth the money
Big cooking space
Very good choice for beginners (Good Price to Quality ratio)
Limited warranty (1-5 years)
Steel (not ceramic)
If you're looking for something really decent and durable (eternal even), I'm talking about a genuine ceramic grill, you'll have to pay several times as much, like Kamado Joe Classic II which costs more than $1000, but remember that you get what you pay for.
Which is why I stand by my opinion that Char-Griller Akorn is a very good and efficient grill that is an undisputed winner at this price range in every regard.
Is it possible to buy a kamado grill for a little less than 200 dollars that is cheap, durable and efficient at the same time? I used to think it was impossible, but I was very wrong when I saw Char-Griller Akorn Jr.
The cooking area is 153 square inches, is it not enough? It depends, but I do know that for most people it will be enough as long as you don't cook for a large group of people at a big party.
Char-Griller Akorn Jr. is very economical, it uses very small amounts of charcoal during regular cooking. I am also very surprised when it comes to temperature. It can hold temperature within the range of 200 all the way up to 700 degrees F.
Remember that the price of this grill is really low, so you can't expect miracles or features that are present in much more expensive models. When purchasing a relatively cheap product, you have to get prepared for some barely relevant downsides that lower the comfort of cooking to a small degree when compared to other high-quality kamado grills.
I'd like to point out, however, that Char-Griller Akorn Jr is most certainly a very good grill, (undoubtedly a great one for this kind of money)
The grill was made of high-quality steel, the inside is porcelain-covered steel, whereas the external side is finished with powder-painted steel. Temperature control isn't complicated here, air vents are located on the top and on the bottom. Also located on the bottom is the ash collector, which can be removed after unscrewing it.
Inexpensive
Very economical
Lightweight & Portable
Limited warranty (1-5 years)
Steel (not ceramic)
The solid, short legs are great at keeping your kamado grill in the right position. The total weight isn't big, which also makes it one of the few kamado grills that can be brought along, like when going camping. You will find big and durable handles on either side that make it possible to easily move the grill from place to place.
In conclusion, it's a very good, small (and portable as well) Kamado Kooker for a low price. Of course you can't expect it to be a top tier grill in terms of workmanship, as it's not possible at this kind of price. I can honestly say, though, that it's a very well built grill that is efficient and worth its money.
A great choice for those with lower budget who can't afford something like the phenomenal Kamado Joe Classic II.
Last but not least is the Pit Boss ceramic grill, its price is quite high due to it being ceramic. Ceramics are the best at holding heat while also being very efficient in terms of charcoal consumption, but why is it the last on my list?
Well, there are several things here that could have been done much better (like the brackets that hold the side shelves in place being kind of low quality).
However, after thinking it over, there's no point being nit-picky, as the best high-quality kamado grills with all the details taken care of cost twice as much as Pit Boss.
The most important thing is that Pit Boss is an efficient ceramic grill with favorable reviews. There are two-level cast iron grates available with different possible configurations with the total cooking area of whole 567 square inches.
All the elements such as screws or hinges are made of stainless steel. Another advantage are foldable wooden side shelves that are not only pretty but also offer plenty of space to prepare food.
On the top of the grill, there's a durable cast iron top tamper that allows to easily control the air flow, right below it you'll find a thermometer that monitors the temperature inside the grill.
Price for ceramic grill
Big Cooking Space
Limited Lifetime Warranty
Lack of innovation and interesting features
If you don't want to spend a fortune (at least $1000) on a new ceramic kamado then it's a good choice. One big advantage of ceramics is rust resistance. All the cheaper grills made of steel are prone to rusting which shortens their durability. Another advantage is better heat holding and control.
Overall, I would recommend this kamado, it may not be perfect (a small percentage of clients complained about poor quality of certain elements), but the quality to price ratio is decent here. If you don't want to spend twice as much buying a ceramic grill, choose Pit Boss.
Buyer's Guide – Several facts on Kamado

What is a Kamado Grill? BBQ Guys have prepared a detailed description of their history for you, as well as what modern kamado-style grills are like today. I invite you to read this short yet detailed article where you will also learn how a kamado grill works.
When you're looking for your first kamado grill at a store, you see models that cost $300 as well as ones that cost more than $1000. A price this high seems crazy at first which is why most people pick the cheaper models. However, once you fall in love with the kamado cooking style, you will definitely want to buy a durable high-quality kamado grill in the future, and when you do, the high price (over $800-$1500) will not be something shocking when for a product that can truly last forever.
What do Kamado grills look like today?
The modern Kamados have been upgraded, all thanks to the modern advanced technology and availability of different materials. Plenty of elements have been implemented such as air vents, hinges, ash tray or thermometer in order to increase the comfort and efficiency of cooking on a kamado grill.
Most modern kamados are made of ceramics. The main advantage of ceramics is their great temperature retention inside the grill for truly many hours at lower charcoal consumption. They are also versatile because you can not only grill with them but also roast or slowly sear meat at lower temperatures. They reach and steadily retain temperatures within the range of 225 degrees all the way to 750 degrees +/-
Elements of better quality such as air vents allow for a much better and steady temperature control than in the older versions of kamado.
The ceramics are also much more durable than, for example, clay, which often simply cracks.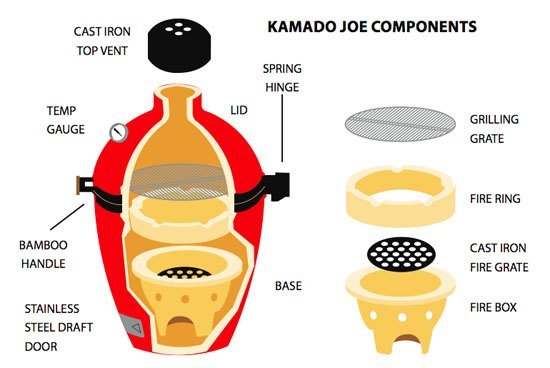 Undoubtedly, ceramic grills are the best kamado grills in terms of temperature control, durability and versatility. Their downside is high prices, although they are worth that kind of money because it's definitely an investment for years to come.
Beside the ceramic kamado grills, there are also others, like made of aluminum cast or stainless steel. All the other types of kamado are pretty much the same in terms of temperature control. A significant difference, however, is durability and mobility.
Ceramic grills are very heavy, but very durable and corrosion resistant. (one just has to avoid dropping or hitting them in order not to damage the ceramics). Aluminum cast or stainless steel kamado grills, on the other hand, are much lighter which makes them more mobile. The downside, however, is being prone to corrosion when it comes to the stainless steel kamados.
Of course, other types of kamado are significantly cheaper than ceramic kamados. However, I'd advise everyone with experience with kamado to invest their money in a truly decent ceramic kamado grill.
What is special about Kamado grill?
Among all charcoal grills, kamado definitely handles heat holding the best.
Flavor – A unique food flavor that is completely different from other grills (flavor of hardwood lump charcoal).
Temperature control is an easy task, kamado has two air vents. One of them is on the bottom of the grill (where the air enters the grill), and the other is on the top (it is used to let the air out). The whole temperature control consists of the proper oxygen flow control, as it's needed for the charcoal to burn. The more air you let in, the faster the charcoal burns (higher temperatures) which works the other way analogously, the less air the slower the charcoal burns (lower temperatures).
Versatility – Kamado grills are great for smoking meat at low temperatures as well as for cooking, like steaks, at high temperatures.
One grill, several cooking methods – Kamado are great for indirect cooking at low temperatures as well as direct cooking at high temperatures.
Durability – This depends on what type of kamado grill you own, a steel one or a ceramic one? Steel ones are much cheaper and less durable as well as prone to rusting. On the other hand, a ceramic grill kamado is definitely more expensive, a big one will cost above $1000. However, real ceramic kamado are characterized by very good durability and the ceramics are rust resistant. They can be kept outside at all times, but I still suggest getting a grill cover to protect all the other steel or cast-iron elements from rain. A price of a real ceramic grill is high, but it's an investment for a lifetime if you properly take care of your ceramic smoker.
Now time for the few downsides
Cooking Size – Due to the size of kamado smokers, most of them have a small cooking area compared to other types of charcoal smokers.
​Weight – All Kamado are heavy, the heaviest ones are ceramic kamado grills. Their weight is high enough to make them hard to move around the backyard, you will definitely need someone's help. Of course, there is one smallest steel kamado grill, which is lightweight enough to bring it along when camping.
​Learning how to cook – The beginnings might be difficult as always, the first few attempts at cooking might be annoying and difficult to you before you learn how to properly control the temperature using the air vents.
What to Look for in Your New Kamado Grill
What material it was made of – You can choose either a ceramic kamado or a steel one. If you want a significantly cheaper kamado then you should pick a steel one (the downside here is much thinner walls to hold heat as well as much poorer durability and tendency to rust).
If you want a durable kamado that will be an investment for years to come, you should pick a ceramic kamado cooker (the downside is the price being at least twice as high compared to a steel kamado as well as much bigger weight), whereas the upside is the fact that the ceramics are rust resistant and much better at holding heat.
As you can see, each material has its upsides and downsides. Let me add that a small steel kamado is a good choice if you're often on the move with your grill. Ceramics are rust resistant and can be kept outside, but the downside is fragility and the risk of cracks upon impact, like when moving the grill around from place to place.
Size – Kamado are very expensive which is why it's a good idea to carefully consider what grill size to buy. If you choose a slightly smaller one, you might save up to several hundred dollars this way. Why so much? The price of small ceramic kamado is few hundred dollars, whereas the big ones cost way over 1000 dollars.
​Accessories and additions – Every grill has plenty of neat gadgets that expand the grills capabilities or the cooking convenience. I'm talking about things like a frying pan or pizza stones. Before the purchase, it is a good idea to check out what accessories your manufacturer has to offer and which ones have to be paid for extra and how much it will cost compared to the competitive models.
Price – You have to accept one thing, a truly decent high-quality kamado grill does cost a whole lot. The price is largely influenced by the grill's size, obviously, but the second important factor is the material it was made of. Ceramic grills are definitely much more expensive than a kamado made of steel.
My advice – If you're the kind of person who's only starting their adventure with Kamado then the best choice will be to buy a steel kamado, which is several times cheaper than a ceramic kamado. For instance, Char-Griller Akorn or the slightly smaller Char-Griller Akorn Jr model.
That way you won't spend a fortune and you'll have a good kamado grill for many years. If you fall in love with the kamado cooking style and feel like you need something better, then you can buy a much more expensive ceramic kamado that costs several times as much.