What kind of steak you can buy used to largely depend on what your local butcher shop had to offer. For that reason, plenty of people didn't have much choice, which forced them to buy what they had.
These days this problem is luckily solved by specialized butcher shops that offer meat for sale with home delivery. This allows you to buy a much better steak no matter where you live.
Most online butchers guarantee delivery all over the US.
After briefly checking out the offer on the market, I realized how many companies of this type are available on the market. For that reason I decided to conduct research and only choose several best mail order steak companies.
The 6 Best Mail Order Steaks in 2021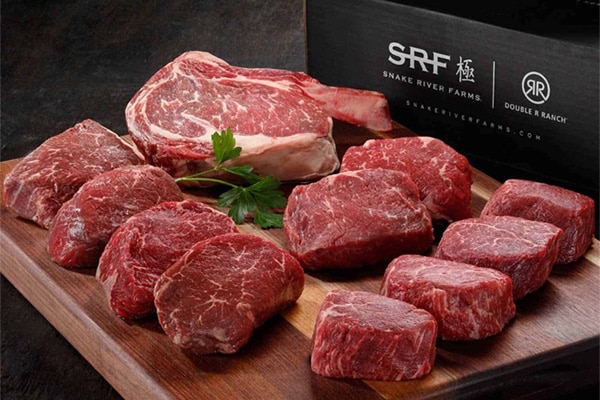 What makes this company stand out the most is the American Wagyu beef. It is a meat rated higher than USDA Prime, which makes it the top tier.
What is the American Wagyu beef? It's a meat that comes from crossing the American Angus cattle with the imported Wagyu Cattle.
It is obviously also one of the most expensive meats.
Out of the Snake River Farms offer I recommend multiple cuts, such as for example the filet mignon, American Wagyu Ribeye or the Wagyu Beef Brisket.
It is one of the best companies delivering meat of such high quality and with such selection.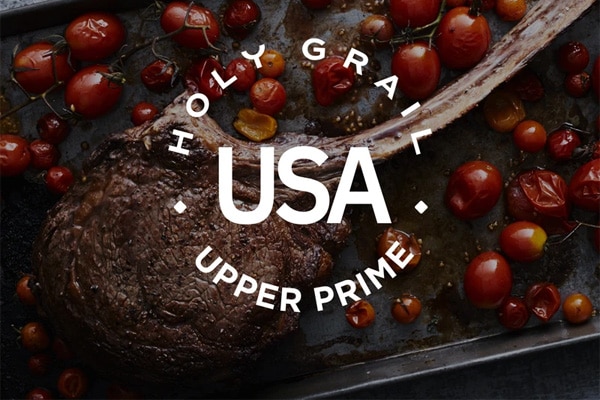 It is a brand that allows you to buy top-notch steaks online.
Up until recently, it was impossible for a regular person to buy the Japanese Kobe Beef in America. This noble meat was only accessible to restaurants with a Michelin star or the best steakhouses.
These days each of us can buy original Kobe beef without leaving their house (class A5) using the online store (Holy Grail Steaks).
Their offer includes plenty of phenomenal steaks available in different configurations and prices. I particularly recommend big boxes that contain plenty of cuts available at much more convenient prices.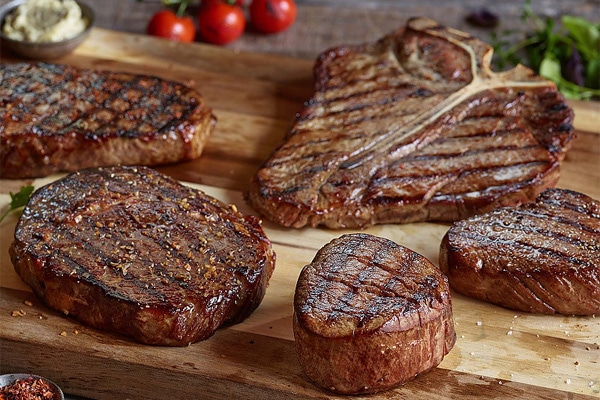 Great steaks with home delivery available through the online store of the Kansas City Steak Company.
Their offer includes many other options such as for example turkey, beef, lamb, pork, seafood and much more.
At this moment, though, what matters the most is steaks. They offer a huge selection of steaks divided into different types and classes of beef.
I particularly recommend the Kansas City Strip Steak or the USDA Prime Ribeye steak. I'd like to add that their offer included wet-aged steaks.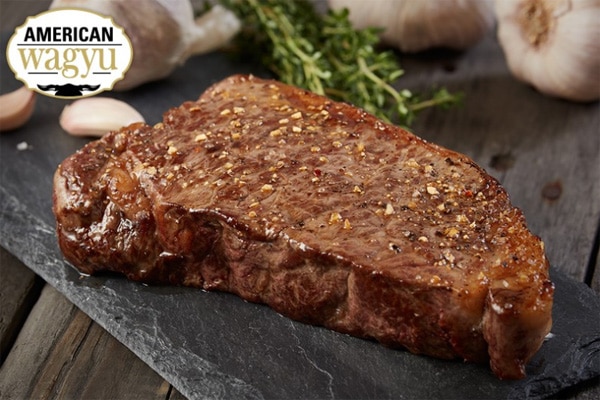 A brand with rich history that offers a very large selection of meats, but let's focus on steaks here.
It is worth noting that their offer includes USDA Choice and USDA Prime steaks (wet or dry aged). Depending on your preferences, the choice is huge, with mail delivery of course.
The beef their steaks are cut from is bred in the Midwest.
In retrospect, it is a brand with huge history, whose meat can be found in many renowned steakhouses. Which makes it all the more good news that you can order their steaks online with home delivery.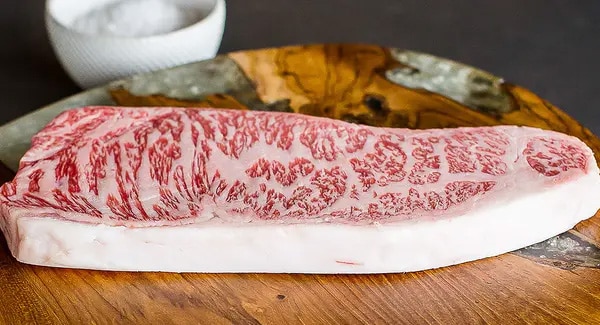 Crowd Cow is a store that makes it possible to purchase meat from different farms and ranches. The owners cooperate with the best breeders, which gives you an opportunity to buy top-quality meat online.
The advantage here is that you know exactly which farm the meat is from. It gives you an opportunity to verify whether the meat really comes from the right farm – it's a guarantee of quality and safety.
Their offer is extensive and includes many types of meat such as beef, pork, lamb, and chicken, including 100% Grass-Fed Beef and the Japanese Wagyu Beef.
You can start your searching at the store by the meat piece or browse the offer of just one particular farm if you have your favorite.
The greatest advantage besides the huge selection and quality is obviously the ability to see where exactly the meat comes from and how a particular farm looks.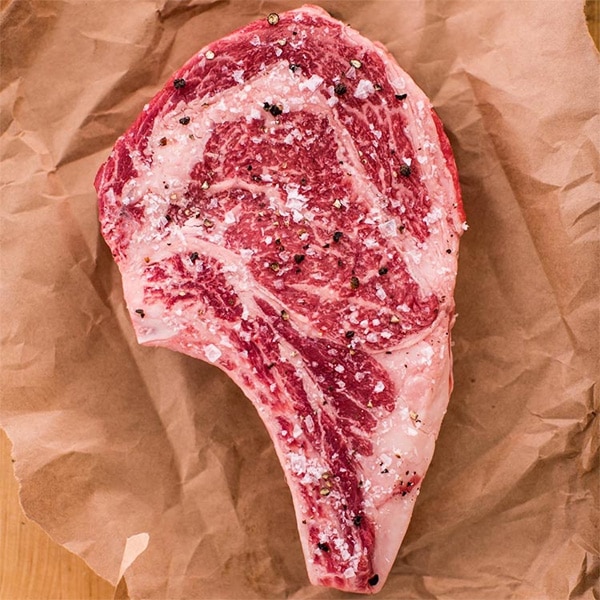 They have a huge selection of very tasty steaks with direct home delivery.
It's a fairly large meat store whose offer includes such meat as beef, chicken, lamb or pork. The offer is really huge when it comes to beef, another advantage is convenient prices.
The manufacturers assure that their meat comes from farms where cattle is pasture-raised and they don't use antibiotics or hormones. They also assure that the meat comes from breeding conducted in the most humane way on the territory of Tennessee and Kentucky.
Ordering raw meat online is safe?
Of course, as long as the delivery is adequately prepared. It is the responsibility of the company selling steaks online for example to ensure that the meat is delivered in the right conditions.
There are plenty of methods, but it mainly consists of sending frozen meat in a sealed container. They also add dry ice inside to maintain a low temperature for as long as possible, in which meat can be stored for a long time.
Right now you might be thinking, is there really a point? Is this a cheaper solution compared to buying at a brick-and-mortar store?
Personally I believe that it's a perfect solution for those who consciously look for the best quality meat.
In this case the slight difference in price is irrelevant as what matters is quality and ease of purchase. It's a perfect solution if there is no butcher shop in your neighborhood where they guarantee top quality of their meat.
In most cases it is not a cheaper solution and that's not the main goal of stores that sell meat online. I will repeat once more, it's a perfect option to easily, quickly and safely buy top-quality meat, in this case steaks.