Breakfast is the most important meal of the day. It's also one of the most inconvenient options when you're out camping. If you're out on your own or with a friend, it's easy enough to fry up a couple of eggs in a frying pan.
It's when you're cooking for a hungry family that breakfast outdoors becomes challenging. Blackstone sought to address this issue.
The result?
The Blackstone 17-inch Table-Top Griddle — a well-designed, compact outdoor gas griddle that packs a punch.
With 268 square inches of cold-rolled steel to cook on and easy operation, you won't want to leave home without it.
Blackstone 17 Griddle Review
This tabletop griddle provides plenty of cooking surface in a neat and tidy design. Things like the pull-out grease trap and higher lip on the edge are thoughtful features that make a real difference in your cooking experience.
What I Like:
Even heat distribution. Conventional tabletop cookers use circular burners. These get the job done but leave cold spots on the surface. Blackstone fits this unit with an H-shaped burner. This design and the quality steel surface ensure even heat distribution.
The 12,000 BTU output will cook eggs, grilled cheese sandwiches, or steak just as easily.
The front-loading grease trap is simple to remove and clean. The slight incline of the plate makes it easy for excess oil to slide away.
Seasoning the plate properly makes it nonstick. Cleaning up is a breeze.
Blackstone makes the plate from high-quality cold-rolled carbon steel. It's as durable as cast iron but won't rust as easily. The thickness ensures that the top doesn't warp or dent easily.
The lip around the edge is slightly higher than usual, ensuring that runny eggs don't run off the griddle.
Adjustable feet make it easy to stabilize the unit on an uneven surface.
It works with a standard one-pound propane tank.
Space for twelve eggs or nine burgers at once.
What I Don't Like:
It's compact but still weighs over 20 pounds. If you have to hike to get to your campsite, that steel top weighs you down.
There's something infinitely rustic about a cast-iron look. This griddle looks very modern.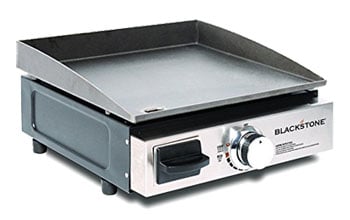 Build Quality
The build quality is excellent. You're getting a solid piece of equipment here. The top plate is heavy and durable. I don't recommend dropping it on your foot — the plate will come out of that fight without a scratch. Your foot won't do as well.
The steel surface is a departure from the traditional cast iron, but a good one. Like cast iron, you must season the surface before using it. Unlike cast iron, you don't have to worry about it rusting quite as much.
The body of the unit is well-constructed and sturdy with a stainless-steel face. The propane burner is of good quality and secured well. The handle of the grease tray is made of a good-quality plastic and is secure, so it won't come off if you tug it too hard. The control knob is metal with a non-slip rubber ring on it.
Each element is carefully considered and well-built. This model will be a regular fixture for many camping trips.
Easy to Use
Is this unit easy to use? I don't see how they could have made it any easier. Assembly is simple. Place the lid on top of the unit. Make sure that all four feet are securely in place on the body of the base. Connect the gas valve, or adaptor if you're using one, then link up your gas bottle.
Turn the knob to the "Light" position to ignite the gas. Then just select the appropriate cooking temperate by adjusting the knob. You're ready to cook in a couple of minutes.
When you finish, let it cool slightly and scrape it down. If you can't clean it immediately, let the top cool off and store it in your vehicle or a bear box so as not to attract scavengers. Then box it up and head for home.
The compact nature of the unit means it fits easily on a picnic table and takes up little space in your vehicle.
Portable Features
There is some trade-off here between extra capacity and portability. The unit weighs over 20 pounds. That's not much, but it does mean it's cumbersome if you're not parked right next to your campsite.
The bottom unit fits neatly into the steel plate on the top for better portability. Just turn the clean plate upside down and place it over the top of the unit for transport. This feature is one of those thoughtful touches that makes Blackstone products unique.
Another is that the feet are independently adjustable. This feature helps your griddle stand level on just about any surface.
Cleaning
If you season your griddle correctly before you use it, the surface becomes non-stick. If you're not sure what process to follow, a Blackstone representative explains it succinctly in this video.
Blackstone recommends applying at least two or three coats of oil. It's tedious but getting this right upfront means that you get more use out of the plate.
After that, cleanup is easy. Scrape away the worst of the grease with the burners off but while the griddle is still warm. If some won't shift, sprinkle water over the surface and scrape again. Then use a cloth to mop up any excess.
Warranty
Blackstone offers a 30-day money-back guarantee. If you feel that the griddle isn't right for you, return it for a refund. It's not a full refund, because you have to pay return shipping, but I guess it's better than nothing.
The unit itself comes with a one-year warranty against manufacturer's defects. This guarantee covers workmanship, finishes, and parts. This repair-or-replace warranty only covers regular home use. If you use the griddle for business purposes, you void the warranty.
Blackstone has an excellent reputation for producing quality products. In the unlikely event that your product is defective, they will rectify the situation.
Should You Buy It?
Pricewise, this griddle is reasonably priced. The build quality is good, and overall, this unit should last well. The innovative features make it a pleasure to use. It works as well for breakfast, lunch, and dinner, thanks to the various heat settings.
It's great for a backyard barbeque or a camping trip. Lugging it over long distances is a little tiresome, but even this isn't a dealbreaker. Unless you're hiking to a new campsite every day, it's more of a minor inconvenience.
Should you buy the griddle? I'll bet you've already picked out the perfect spot to try it out.