Broil King, just like Weber, went for manufacturing high quality gas grills. It's not another manufacturer that mostly bases their products on marketing. When it comes to the entire grill offer, both companies have a wide selection of models in their offer.
You have basic, small-sized models at your disposal, without unnecessary features and available at affordable prices mostly to beginners and those with a limited budget. Then you will find plenty of models from the medium tier and several from the high one, high tier means not just more space and power but also many interesting and useful features and gadgets.
I decided to make a broil king vs weber comparison and give you my objective rating of who I believe wins in this competition. The comparison will feature, among others, their rather most popular models, Weber Spirit II E-310 and Broil King Baron 320.
The Weber Spirit II E-310 is my winner because of way better value for the money, great warranty, features & top quality.
10 Years Warranty
Most popular entry-level gas grill
Great value for the money 
Solidly built and durable
Universal size and 3 burners
GS4 Grilling System & other features
Both models come with three burners, similar prices (Broil King is slightly cheaper, by about 5%) and features so I invite you to familiarize yourself with my observations below. For those who are in rush I have prepared a table where you can quickly compare the most important aspects of both grills.
If you do have a little more time, however, I really encourage you to make yourself familiar with my broader review of both manufacturers and their grills below the table.
My first impression after a contact with the Weber and Broil King grills was a thought that at the first glance both grills look great and are made of very good quality materials.
However, upon further analysis and discussion with other people who have experience on the topic I came into a conclusion that to me the winner is still Weber. The Spirit II E-310 model is a much more reliable investment to me than the also great Broil King Baron 320.
The comparison features Broil King Baron 320 vs Weber Spirit II E-310
Weber – It is definitely a more popular brand that has built itself a huge base of loyal customers who value Weber grills for the quality of workmanship, efficiency and price. To me, the winner in this confrontation is Weber, which offers whole 10 years of warranty for the entire grill (when it comes to Weber Spirit II).
Broil King – When it comes to quality of workmanship and efficiency, both of them represent a similarly high level as manufacturers. Upon the first contact with the Broil King Baron 320 grill I was very positively surprised with the quality and efficiency. I am concerned, however, about a pretty huge difference in negative reviews between these two manufacturers, with Broil King shamefully being way ahead. On top of that, Broil King Baron 320 loses to Weber Spirit II E-310 due to a much shorter warranty period.
Broil King vs Weber – difference in details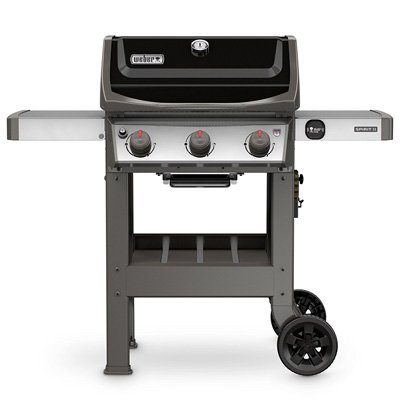 The best selling brand among grills doesn't really need an introduction. Its offer includes a wide selection of high-quality gas grills available in many different versions and at very diverse prices.
After so many years on the market, Weber has perfected some of their models to such an extent that they offer whole 10 years of full warranty, which only confirms what a great brand it is. It includes inexpensive models for beginners, middle tier ones for those who already know what they want and expect a little more, and high-quality luxury models that can cost as much as a few thousand.
Weber Spirit II E-210 Key features
GS4 Grilling System
Open structure
Choice of colors
10 years of full warranty
529 square inches of cooking area
3 burners ( total of 30,000-BTUs )
porcelain enameled cast-iron cooking grates
Available in a natural gas or propane version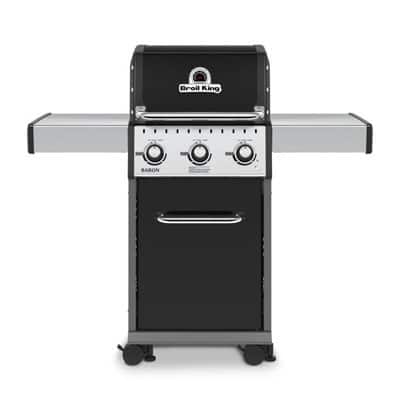 Despite Broil King being a manufacturer of gas grills of similar quality to Weber or Napoleon, it is not such a popular brand, especially among beginners. In the Broil King offer you will also find many interesting models from the most basic ones all the way to expensive models filled with many interesting features.
So everyone will find something for themselves among Broil King models, regardless of whether you are a beginner or have high expectations. The configuration of different features and sizes is so big that there's a lot to choose from. It's just too bad that the warranty isn't as great as with their greatest competitor (Weber).
3 burners ( total of 30,000-BTUs )
440 square inches of cooking area
cast iron cooking grids
Stainless steel Flav-R-Wave™ cooking system provides
10 years of limited warranty for the grill and burners plus 2 years for the remaining elements
For those looking for an alternative to the top brand of Weber, however, Broil King is definitely a worthy candidate to consider.
In the Weber Spirit II E-310 vs Broil King Baron 320 comparison I'd say that Weber wins, but that doesn't mean that Broil King has much poorer grills. Quite the opposite, gas grills from Broil King are also of high quality and worth your money, but you should compare individual models in detail based on your needs.
When it comes to certain models from Broil King, they might be a little better than certain models from Weber, you have to make your own quick analysis and decide what features and size you need in a new grill.
When it comes to efficiency, both manufacturers are high level.