Camp Chef's Smoke Vault 24 is one of the company's most popular designs. With its reasonable price and attractive design, it's the perfect place to stash, I mean, smoke, meat.
Top-range gas smokers can easily cost over $1,000, so it's no wonder that Camp Chef 24 battles keep up with demand.
For someone new to the game or a casual smoker, the Smoke Vault 24 is an effective, affordable option.
Will it blow the socks off an advanced hobbyist, or professional? It's not meant to and, frankly, nothing at this price will. Overall it produces reliable results for someone testing the waters or for the occasional hobbyist.
Camp Chef Smoke Vault 24 Review
It's hard to beat the features of the Smoke Vault 24 for what you pay. The Camp Chef Smoke Vault 24-inch model is something of a beast that can even accommodate ribs or turkeys.
What I Like:
You get a good recipe book with your purchase. This book includes step-by-step instructions on how to get the best results.
Simple to use. If you hate reading instructions, you'll love the intuitive design. It takes a bit of practice to understand the intricacies of when to open and close the dampers, but these are things you'd have to learn along the way with any machine.
The automatic ignition system means that there's no fumbling with matches and gas.
The extensive temperature range. Set the temperature anywhere from 150° F to 500° F. That temperature range covers almost every smoking technique. It also makes it easier to achieve high-heat smoking that might blister the paint off lesser models.
You can use stand-alone gas or, with a simple conversion, plug it into your LP line. This model isn't technically portable, but it's relatively easy to move if there are two of you. It can make an excellent addition to a longer hunting or camping trip.
You don't have to fuss with using firewood or charcoal to get the temperature right. Set the heat on the gauge, and the gas does the rest.
Cleanup is relatively easy.
It fits a good deal of meat overall.
What I Don't Like:
A pet peeve of mine with this type of product is that the built-in thermometers are usually inaccurate. I wish I could say this wasn't the case here, but I can't. You'll have to shell out some extra money for a better-quality digital meat thermometer.
The door doesn't shut tight and so allows some smoke to escape. It's a common problem at this end of the price range and an easy fix if you know how to install a gasket. I do find it annoying that the company hasn't fixed this issue.
It's not insulated, so it doesn't do well in temperatures below 40°F. You can offset this to some degree by buying an insulating cover and storing it in a sheltered spot, but I recommend looking for something else if you want to smoke meat during winter in colder climes.
It won't stand up to heavy use. It's not as durable as a high-end model, but what you get for what you pay is good. The wood tray will start rusting after a few years. Higher temperatures may blister the coating, but this is primarily a cosmetic concern.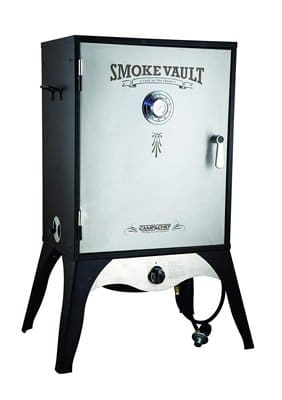 Build Quality
The exterior is heavy-duty steel, and so it can take a pounding from the elements. To reduce costs, the company had to sacrifice in some areas. In this case, they've stuck to good-quality steel but opted for thinner walls.
While this doesn't affect the longevity of the product, it does mean that performance suffers a little. The thinner steel and lack of general insulation means the temperature fluctuates a lot in cold weather.
This model will disappoint if you try to smoke meat when the mercury drops below 40°F. If you live in an area with a milder climate, this isn't an issue.
Wherever you live, I recommend investing in a cover to reduce temperature fluctuations. I'd recommend that for most smokers in this price range.
Camp Chef makes the smoker tray from lower-grade steel, so you're looking at about a five-year lifespan with consistent use. You can get a reasonably inexpensive replacement, though, so it's not a dealbreaker.
Easy To Use
If you're handy, it's pretty easy to work out how to assemble and start using this model. If you're not good at DIY, the detailed instructions make it simple. It'll take about half an hour to put together. From there on, it's merely a matter of loading up the smoker and ensuring it has enough wood and water.
The instruction manual and recipe books give clear instructions on how often to replenish the wood chips. The high heat burns through chips faster than with high-end models, so you'll have to refill the tray more often than with those higher-end models.
Replacing the wood chips and water is simple to do. Both trays are completely removable, making it simple to dump out ash and excess water at the end of smoking. Setting the temperature is simple too. If you'd like a better idea of how easy, check out Camp Chef's quick video.
Temperature Control
The Smoke Vault 24 trumps conventional wood burners with temperature control. With a traditional wood burner, there are more variables. With the gas burner, you can set the base temperature. That takes care of one variable.
Maintaining an even temperature is a little tricky because of the lack of insulation. It's harder to control the internal temperatures because air is able to seep in through the door. Installing a gasket to seal the door properly is a quick and inexpensive fix.
Aside from that, the placement of the smoker also makes a big difference. It's unwise to place the smoker too close to other items because they will most likely get scorched. And it needs some protection against the wind.
The dampers give you better control over the internal temperatures. On the downside, having to open the door when you need to replenish the wood chips does mean a significant loss of heat. As you become more experienced, you'll get better at gauging these variables.
Top Features
This unit isn't a perfect option, but the following features make it worth trying:
Wide temperature range. This variety is unusual even with some of the high-end models. Some companies limit the range to what they believe is ideal or to preset options for specific meats. The Smoke Vault 24 is more versatile than these products.
There are three damper valves strategically placed.
The Vault comes with two repositionable grids and a jerky rack.
The jerky rack has a fine mesh coating allowing you to use smaller bits of meat, so nothing goes to waste.
Automatic ignition.
Space enough for a turkey and large rack of ribs.
You get a good recipe book to help you improve your skills.
Good-quality steel used on the solidly constructed exterior. This smoker won't fall apart in a hurry.
Gas-powered so it's cheaper than a charcoal-run fire. It's also easier to get it to temperature.
Warranty
The company offers an industry-standard one-year warranty from the date of purchase. This repair-or-replace warranty covers manufacturer's defects, but there are some strict specifications to note. The warranty:
Is not transferable.
Doesn't extend to the exterior paint finish.
Is voided if you alter the product.
Is voided if you misuse the smoker or subject it to higher than specified heat.
Covers reasonable use but not necessarily commercial use.
I know it's boring to check the Do's and Don'ts Section in a manual. In this case, you must. Following the company's use and care recommendations keeps your warranty intact.
Should You Buy It?
The Smoke Vault 24 does have some issues, but it's still a good product because of the price. This model is an excellent introduction for those who want to try out smoking.
You have plenty of features to play with to get a feel for the hobby without spending a fortune. The Smoke Vault 24 will also suit the person that wants to smoke meat only on occasion.
If you're a competitive smoker, or very experienced, look for something else. If you're just feeling your feet, it's a good option.
As you become more skilled, you'll outgrow the Smoke Vault 24, but you'll get plenty of use from it in the meantime.