Pellet grills are versatile outdoor barbeques. They use wood pellets instead of gas or charcoal. Best of all, they work great for slow cooking, which ensures your meats have that true BBQ flavor.
If you're considering replacing your old grill or you're shopping for your first ever grill, Camp Chef and Traeger are two of the top-rated brands on the market. But which is the better option between the two?
By the time you finish reading this Camp Chef vs Traeger comparison post, you'll be able to decide which brand suits your needs the best.
Camp Chef vs Traeger
Camp Chef SmokePro DLX – Summary info
Camp Chef SmokePro DLX 24

Cooking Surface:

570 sq. in.

Warranty:

3 Years

Pellet Hopper:

18 lbs

Best Value for the Money

Check Latest Price
The Camp Chef SmokePRO DLX is one of the most user-friendly smokers available on the market today. While it doesn't have advanced features, like WiFi connectivity, it has a couple of handy features to make up for that.
This pellet grill allows you to slowly and steadily smoke your meat to the perfect temperature, then toss it onto the extra hot grates of the sear box to get that touch of char and grill lines.
Here's a look at the Camp Chef SmokePRO DLX specs:
570-square inch cooking space divided between a lower and upper rack with a 3,778-cubic inch total chamber capacity
A dial-based temperature regulation system, ranging from 160° to 500°F
140 pounds in weight and measuring 45 x 21 x 51 inches
A patented Ash Cleanout system, which allows for easier cleaning
Stainless steel construction, which prevents corrosion
A 3-year warranty
Traeger PRO 575 – Summary info
Traeger Pro 575

Cooking Surface:

575 sq. in.

Warranty:

3 Years

Pellet Hopper:

18 lbs

Check Latest Price
The most outstanding feature of the Traeger PRO 575 is the WiFIRE technology. With this technology, you can connect the PRO 575 to your smartphone, allowing you to control your grill remotely from the Traeger app.
Here's a look at the Traeger PRO 575 specs:
Weighs 124 pounds and measures 53 x 27 x 41 inches
575-square inch cooking space divided between a lower and upper rack
A dial-based temperature regulation system, ranging between 165°F and 500°F
WiFIRE connectivity, allowing you to operate your grill remotely from the Traeger Grillguide app
Stainless steel construction that prevents corrosion
A 3-year warranty
Face to Face Comparison
For the purposes of comparing Camp Chef and Traeger, I have picked two grills of similar size and with similar functions: the Camp Chef SmokePro DLX and Trager PRO 575.
Let's see how they hold up against each other.
Brand History
Traeger is undoubtedly an icon of pellet smokers, and virtually everyone in the U.S. recognizes the brand. The brand started in 1985 and patented the pellet smoker in 1986. For more than two decades, Traeger had a monopoly on this type of smoker.
It did an excellent job at building and marketing this type of smoker, which makes it the most popular pellet grill brand to date. The Traeger patent expired in 2006, giving other companies like Camp Chef an opportunity to build their name in the pellet grill market.
Established in 1990, Camp Chef focuses on designing and manufacturing outdoor cooking equipment, including stoves, fire pits, smokers, and pellet grills. Because of its high-quality products, the brand has earned prominence among its customers.
Price
Price is one of the major factors to consider when shopping for the best pellet grill for your needs. There's no big difference between the price for a Camp Chef pellet grill and the price for a similar-sized Traeger pellet grill. Nonetheless, Traeger grills cost a little more because they've been on the market longer and are a more recognizable brand.
Temperature Range
Manufacturers of pellet grills advertise their products as all-in-one grilling solutions. Therefore, the temperature range is an important consideration when shopping for this type of smoker.
You want a pellet grill that can easily hold temperatures at both ends of the smoking and searing spectrum. Keep in mind that the ideal temperature for smoking meat is 225°F (107oC) and searing can be done at temperatures ranging from 400oF (204oC) to more than 500°F (260oC).
The Camp Chef SmokePRO DLX has a temperature range of between 160°F (71°C) and 500° F (260°C) while that of Traeger PRO 575 is between 165° F (73°C) and 500° F (260°C).
Build Quality
Camp Chef builds its smokers with high-quality materials. The body and trays are made from stainless steel, which is corrosion-resistant and hence can stand the test of time.
The smokers look robust and feature a worktable on the side, which makes the cooking task much easier. They also have a pair of wheels, which promote portability and can firmly support the weight of the smoker.
Traeger also uses high-quality stainless steel to build its smokers. The robust smokers feature strong grill stands that keep them steady for a long time. Despite their robust construction, Traeger smokers don't feel heavy, and hence are quite portable.
Brand reputation
Having produced top-quality grills for about three decades, Traeger remains an industry titan. However, its market share is steadily dropping thanks to stiff competition from brands like Camp Chef.
While Traeger is the brand that popularized the pellet grill, it seems like other manufacturers have started to catch up and are now offering products that can give this titan a run for its money.
If you can get a Traeger on the market, you'll get a wonderful pellet grill. If you can't, however, consider buying a Camp Chef.
You'll save some cash and get a smoker that is actually a little better. The Camp Chef SmokePRO DLX is cheaper to buy and easier to use compared to the Trager PRO 575.
Size
Camp Chef SmokePro DLX and Traeger PRO 575 have about the same amount of cooking space. The Camp Chef offers 570 square inches while the Traeger offers 575. With this kind of space, you can easily cook several different meals at a time.
The only advantage that the SmokePRO DLX may have over the PRO 575 is that it also comes with a sizable side shelf. It's always good to have some extra space to place a plate full of food or the ingredients that you want to add to the food that you're smoking or grilling.
Pellet Hopper
There's nothing much to compare between the SmokePRO DLX and the PRO 575. Both have an 18-pound pellet hopper capacity. However, the PRO 575 has the advantage of their innovative PRO D2 Direct Drive.
The Pro D2 features a state-of-the-art brushless motor that makes it wear out slower. It also has the Turbotemp that raises the number of pellets to make up for the open lid and helps the grill to attain cooking temperatures faster.
What's more, the PRO D2 features a pellet jam solution that makes the auger drill to move in a reverse direction to eliminate pellet congestion. The PRO D2 Drive makes the Traeger grill a better option if you need to choose a smoker based on its pellet hopper.
Warranty
Both Traeger and Camp Chef are reputable brands that stand behind their products. They also have a reputation for exceptional customer service.
When it comes to warranty, the brands don't need a comparison. They both offer a 3-year warranty, guaranteeing their products to be free from defects in all materials and workmanship.
They won't hesitate to fix any issues that result from poor workmanship. Both warranties don't cover normal wear of parts or damage resulting from abuse, misuse, overheating, or modification.
Versatility
Camp Chef takes the trophy when it comes to versatility. It offers a separately sold sear box.
While the sear box is an expensive addition, it's worth the price for someone who takes grilling and smoking seriously.
With the sear box, you can get extremely hot direct heat in a short span of time, which is impossible with the Traeger grills.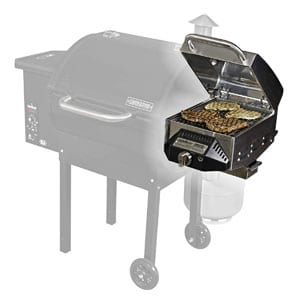 Accessories
Many grillers complain that pellet smokers hardly attain the ideal temperatures for searing meat effectively. Camp Chef offers the SmokePro BBQ Sear Box to solve that problem.
While it is a rather expensive accessory, it will certainly come in handy when cooking. Attached to the side of your grill, the sear box delivers 16,000 BTU, which can quickly attain temperatures of up to 900°F. With such temperatures, you can always get a perfect sear.
Besides the Sear Box, the Camp Chef also has all the essential features that you'll find in other grills like the Traeger.
Design
There's nothing much to compare when it comes to the design of the Traeger PRO 575 and the Camp Chef SmokePRO DLX. They feature very similar designs. The only notable difference is that the Camp Chef has color options, available in both black and bronze.
Camp Chef vs Traeger – Final Verdict
While Traeger is the most popular brand among pellet grills, other manufacturers like Camp Chef are steadily cementing their position in the market. If you're driven by popularity, you might want to choose the Traeger.
However, if you put more value on the price to quality ratio than the brand popularity, you can't go wrong with the Camp Chef. The brand offers defect-free and durable pellet smokers at very competitive prices.
While the SmokePRO DLX doesn't have WiFi, the innovative ash cleanout mechanism and the sear box compensate for that. Traeger produces grills with cutting-edge technology for an awesome grilling experience, but their products are often more expensive.