If you're looking for the ultimate powerhouse pellet smoker that's going to be with you for years, look no further than the Camp Chef Woodwind Wifi 24.
Our human ancestors have been cooking with fire for hundreds of thousands of years. But in this smoker, we've finally mixed our two greatest achievements – fire and technology.
The Woodwind Wifi 24 has a wifi-based controller that allows you to set temperatures, timers, and notifies you when your meat is done.
Some might say that it takes the fun out of traditional smoking, but you can't deny that these advancements are revolutionizing the world of barbecue.
In this Camp Chef Woodwind Wifi 24 Review, I'll cover the top features of this cooker, along with some realistic expectations on its usability.
Camp Chef Woodwind Wifi 24 Overview
Camp Chef has been making a name for themselves over the last few years in the barbecue ecosystem. They are one of the pioneers of powerful yet portable grills. Finally, they released a few products that outdoorsmen could enjoy while camping or just being outside.
Their products are flexible, meaning that they can be used by top-level chefs or ordinary people. It doesn't matter if you're feeding a small family or a large crowd, Camp Chef has got you covered.
The Camp Chef Woodwind Wifi 24 is all of their previous wins combined into one stand-alone grilling masterpiece.
This cooker uses smart technology that enables the user to have total control. Having control over the meat is one of the best features a cooker can offer. In previous years, it was difficult to keep consistent heat and even more difficult to evenly cook the contents inside.
Today I am going to cover what I like about this cooker and some things that could be a bit better.
Camp Chef Woodwind Wifi 24

Cooking Surface:

811 sq. in.

Warranty:

3 Years

Pellet Hopper:

22 lbs

Best Value for the Money

Check Latest Price
What I Like:
The cooker is easy to use. For those who are looking to upgrade from traditional fire cooking, this is the way to go.
The controls are easy to understand, even if you're not tech-savvy.
It's easy to move around due to the large wheels.
It has a large enough surface area to comfortably cook tons of food.
What I Don't Like:
Assembly could be a bit easier, but it's not a deal-breaker.
Sometimes the wifi can disconnect, which can cause slight frustrations while cooking.
The app isn't compatible with all devices (especially Android.)
The funneling of the grill could use some work. You have to pay extra attention, especially when cooking ribs.
The price is a bit high, so it may not be suitable for everyone.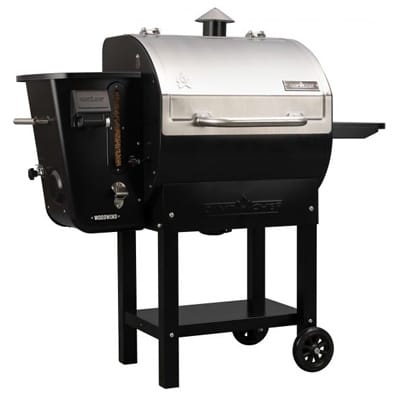 Wifi PID Controller
As mentioned above, the grill has a wifi connection that lets you control temperature, set a timer, and get notifications about how your meat is cooking. The app is pretty straightforward with no crazy features, but its simplicity is what makes it function properly.
This kind of control is great because it allows you to multitask while cooking. You won't need to rely on a comrade to fetch your drink so you can tell when the chicken is ready (been there.) While wifi is great, it's not always perfect.
Sometimes the wifi disconnects, which can tamper with the quality of your food. To avoid this, I recommend also connecting to the Bluetooth feature to ensure a stable connection.
The Woodwind comes with four temperature probes, which are also compatible with wifi so you can set them to your desired temperature.
Some "experts" are opposed to this style of barbecue because it lacks sportsmanship. However, I found that the wifi feature allows for an easier process that still lets you enjoy the art of cooking.
Build Quality
At first glance, the Woodwind Wifi 24 looks a little intimidating. The cooker, however, is easy to assemble and is solid. It's sturdy enough that you never need to worry about shaking or rocking while cooking, which I have experienced with previous grills in the same price range.
Small wooden pellets are fed into the bottom of the grill, and when heated create a smoky aroma that binds with the meat beautifully.
The diffuser pan helps to evenly distribute heat around the surface of the grates so ensure you don't overcook certain parts of your meal. This process is much easier than dealing with charcoal or wood chunks.
Temperature Range & Control
The heat ranges between 160 F and 500F, and you can adjust the temperature 5 F at a time.
You can also control the amount of smoke through a knob, which is just unworldly. The more smoke you want, the more pellets the grill burns.
The Woodwind makes you feel like you have full control over the power of fire, which is a pretty cool feeling. With this level of temperature control, your options are unlimited.
Now you don't need to worry about watching the temperature gauge every five minutes.
Top Features
The Camp Chef Woodwind Wifi 24 cooker has a lot of advanced technology integrated, but what are the most useful features? Here are some of the key features that make this high-end pellet smoker stand out from the competition, and what makes it one of my top choices:
Stainless Steel Firebox – This may not be the first thing you look for, but stainless steel maintains aesthetics and makes cleaning a whole lot easier.
Ash Cleanout System – Another feature that makes cleaning easier. I have spent hours upon hours cleaning ash in my lifetime. With the ash cleanout system, the whole process is a breeze.
Smart Smoke Tech – Being able to control smoke is an outstanding feature of this grill. This will make sure you never miss out on that delicious smoked flavor that everyone craves at a barbecue.
PID Controller – I'm a big believer in comfort. Being able to easily control the temperature remotely is a huge benefit. As mentioned before, you have more freedom to multi-task due to the PID controller.
Sturdy Legs – This cooker doesn't like to shift around, which is amazing. I've had small panic attacks in the past due to a shifting grill. I'm impressed with how solid this cooker is.
Cleaning
Cleaning the Woodwind is simple. The grill does most of the work for you. It comes with an ash cleanout system that allows you to empty ash at any time while cooking. Managing grease is now less dreadful with the grease management system that comes with the grill. Grease build-up was one of my worst nightmares, so I'm thrilled to see Camp Chef is doing something about that.
You'll need to clean the grates after each use, but a standard grate brush or aluminum foil should do the trick. You don't need to worry about cleaning the exterior unless you have a massive spill. Overall, maintenance is low with this cooker.
Sear Box
With the Woodwind comes a sear box that can be used as a smaller gas grill. If you're purely looking for aesthetics, this is a great feature for adding those beautiful sear marks to your meat. The sear box rests on the side of the grill, which allows for easy access while cooking.
I find it much easier to use the sear box rather than pressing down on the meat. In the past, it was difficult to achieve beautiful sear marks without releasing all the juices from the meat. This feature solves that problem.
Summary: Should You Buy It?
If you're looking for a heavy-duty cooker that will last you a while, you can't go wrong with the Camp Chef Woodwind Wifi 24. It has everything you'll ever need to cook with fewer frustrations.
If you're looking for a more traditional way to barbecue, perhaps this cooker isn't for you, as you may have gathered throughout this Camp chef Woodwind Wifi 24 review.
The Woodwind costs a bit more than other cookers such as the Weber Smokey Mountain or the Pit Barrel Cooker, but I think the price is justified. With all its customizable features and remote control technology, you'll have full control over your food, and that is what's most important.