Let's face it. Most people prefer hassle-free grills that use heat efficiently and produce great-tasting food. Then there are those who want to try out new recipes and get succulent results without losing control of cooking temperatures.
Whether roasting or smoking food, Kamado-style grills are the closest you can ever get to perfect cooking.
If you want to try your hand at a kamado-style grill or just upgrade your old kettle-style grill, this is a good starting place. In this Char-Griller Akorn vs. Big Green Egg comparison, we'll put two popular and similar-sized grills side by side and see how they stack up.
Char-Griller Akorn vs Big Green Egg
Char Griller Akorn

Cooking Space

447 sq. in.

Type

Steel

Warranty

Limited warranty ( 1-5 Years )

Check Latest Price →
With a capacity for 27 burgers, Char-Griller Akorn is an affordable grill that lets you cook kamado-style. This grill is black in color and gives you everything you want in a consumer grill.
It's great on fuel and hits high temperatures and low temperatures with amazing precision and efficiency. You can use it alone or in a small gathering. It also adds fantastic flavor to your food.
Being lightweight and versatile, Akorn is easy to move around and operate when cooking outdoors. You get an ample cooking area and cleaning it shouldn't be much of a problem. As for construction, it's sturdy and built to last.
What about the Big Green Egg? The name says it all.
The Big Green Egg is a 4-in-1 egg-shaped outdoor grill that functions as a smoker, traditional oven, barbeque, and pizza oven. From cooking pizza or paella to steak and seafood, the EGG lets you grill, roast, smoke, and bake like a pro all year round regardless of the weather.
Thanks to its user-friendly design and patented technology, you can cook with ease using 100% natural lump charcoal. The oval design allows heat to rise from the base, flow through the grates to your food, then to the roof, where it bounces back down to the bottom.
Thousands of people use it for their outdoor cooking as it has a sturdy build and offers better insulation, meaning they can grill food for years without wasting fuel.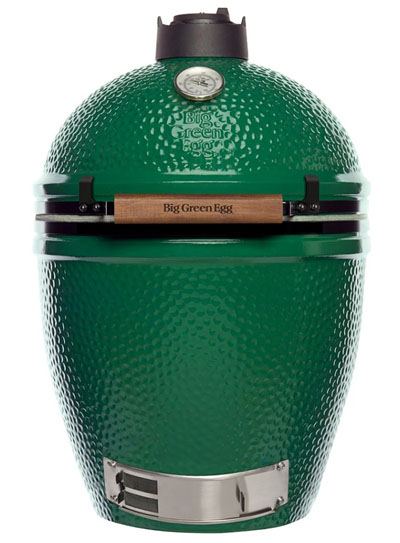 Top Features Face to Face
For the purposes of comparing the two brands, I have chosen two grills, the Char-Griller Akorn and Big Green Egg. We'll look at how they stack up with regards to build quality, accessories, warranty, prices, accompanying accessories, and cleaning.
Brand History
Big Green Egg is the brainchild of a former American serviceman turned entrepreneur Ed Fisher. He opened the first store in Atlanta in 1974, where he sold a simple clay cooker whose design and materials were inspired by ancient Chinese and Indian cookers. Despite yielding fantastic results, these cookers were fragile and not resistant to the elements.
Ed set out to refine his cookers and market them to consumers. From the original domed clay cooker, Big Green Egg has come up with seven different sizes of the EGG. It is now available in fifty countries worldwide, and it comes with hundreds of accessories to make cooking outdoors easy and enjoyable.
Char-Griller has a history of making affordable and quality grills, smokers, and accessories for hardworking families. Akorn is the handiwork of two siblings from Georgia who have been in the grilling industry for over 25 years. They started with a charcoal barrel-style grill, and, over the years, expanded their product line to include Kamados, Dual Fuel, and Kettles that are as resilient and dependable as the families who gather around them for BBQs.
Akorn, which was launched in 2011, is built to endure all the rigors of outdoor cooking. You can expect yours to last beyond your first grilling season. From where I sit, I can say they care about the consumers just as much as they do about making quality cooking products.
Temperature Control & Range
When it comes to temperature control, you'll want to have a good understanding of how temperatures can be. Big Green Egg is all about precision. When cooking, you can adjust temperatures using patented airflow controls. Its dual-function metal top and draft door work in tandem to regulate the volume of air that gets in and out. Larger volumes of air will produce red hot coals that cook hotter and faster, while smaller ones will prolong the fire. When both vents are wide open, fires can get hot quickly, with temperatures exceeding 300°C (575°F).
On the other hand, Akorn can maintain cooking temperatures of between 200°F and 700 °F. This range lets you cook or smoke a wide variety of foods. Using top and bottom adjustable dampers, you can regulate air flows while smoking or cooking. Its efficient design means you'll use far less charcoal for cooking your food.
Build Quality & Materials
Akorn is constructed from three layers of strong tubular steel and sits atop a three-foot stand with wheels. Its exterior has a powder-coated finish while the interior is porcelain coated. The result is a kamado-style grill that's both light and affordable, yet delivers a unique cooking experience. As the larger (and bulkier) grill, Akorn gives you 314 square inches of cooking area and 133 square inches of warming rack space.
On the flip side, there's always a price to pay for a cheaper grill. The flimsy steel construction makes the Akorn prone to fast deterioration and heat leakage. The lid hinge feels awkward and tends to punch the rear seal more than the front one, which in our opinion accelerates degradation. It would also be great if the seals were coated with a temperature resistant sealant to stop smoke (and heat) from seeping out.
On the other hand, the Mexican-made Big Green Egg is crafted from quality ceramics with unmatched thermal properties. It uses the very same advanced production techniques that NASA uses to manufacture heat shields for the space program. This explains why the Egg scores highly with regards to heat retention, fuel efficiency, and cooking results. Because of this ingenious design, Egg has been able to perform remarkably well, even in extreme conditions. You can use it all year round. If you're looking for American-designed ceramic grills, you'll be very much at home with the Big Egg.
Price
When shopping for kamado-style grills, pricing is a decisive factor in almost any buying decision. The Akorn goes for $329.99, which is roughly a 1/3 of the cost of the Green Egg or Big Egg. The Akorn comes with everything you need to grill or smoke. Plus, it's easy to light and control, and the food comes out great. Since it gets the job done, any cost-conscious buyer will be happy with their purchase.
While the Big Green Egg is the most popular and recognizable kamado-style charcoal grill, its price is higher. Looking at the price tag, you may start asking yourself, does anyone need a $1,000-plus kamado grill? Here's the thing: The Big Green Egg isn't trying to be another alternative to the traditional barrel-style charcoal grill. It's an energy-efficient grill with one-inch thick cast-ceramic walls and a heavy lid that traps heat, letting you control temperatures with precision. You can't achieve such precision with any $100 model.
Warranty
Here, the Big Green Egg trumps Akorn.
All the Big Green egg cookers (Mini, small, MiniMax, Medium, Large, XLarge, and XXLarge) used for consumer purposes carry a lifetime warranty. The warranty covers materials and workmanship on all components such as the base, firebox, dome, damper tip, firebox, and the fire ring.
Like other products under the Char-Griller brand, the Akorn comes with a warranty for defective parts and replacement only. The charcoal grill (hood and bottom) are covered for 5 years from the time of purchase. Char-Griller will also replace or repair torn seams, damaged ash pans, side burners, and other defective parts for a period of up to one year from the date of purchase.
Available Accessories
Whether smoking or grilling, you'll occasionally require other complementary hardware and interior components. Both grills come with a decent number of accessories that will surely enhance your cooking experience. But the Big Green Egg again comes out on top.
The Big Green Egg features the EGG itself and components such as a steel cooking grid, temperature gauge, fire bows, nest utility rack, egg genius (temperature regulator), cast iron satay grill, multilevel rack, and charcoal igniter, among other accessories. You can also get Eggcessories such as tables, nests, and charcoal from individual dealers. With such a huge assortment, you can do more with the BGE than you could ever have imagined.
Akorn from Char-Griller isn't that far behind. You can enhance your cooking experience with half-a-dozen fine accessories such as the adjustable grate, heat deflector, JR smokin' stone, charcoal chimney, charcoal basket, and rotisserie.
Cleaning
After cooking, you don't want to spend a lot of time cleaning your grill. Cleaning the Akorn is a breeze as it comes with a detachable head/dump ash pan for easy cleanup. Simply unlatch to catch, then slide the entire bottom and dump. That's it.
Not so with the BGE. Though the interior is glazed, cleaning up the ash in the BGE is not so easy. When cleaning, you need to brush the grills then shut the regulator and bottom grill, before closing the dome and leaving it cool. Once it cools, you can go ahead and scrap out the ashes, which is a bit of a chore.
Final Verdict – Char-Griller Akorn vs Big Green Egg
If you're a beginner who wants to try out a kamado without the premium price tag of an EGG, the Akorn might just be the right grill for you. The Akorn does reasonably well for kamado-style cooking, given that it's roughly half the weight and one-third the price of a BGE model of a similar size. It's quite efficient in terms of fuel and can cook at both high and super low temperatures. While not as big or as durable as the Green Egg, it can still cook pretty well and serve you for years if you take good care of it.
The BGE is suitable for anyone who wants to cook at precise temperatures on a regular basis. While the price tag is quite high, the versatility of the BGE sets it apart from other charcoal grills on the market. You can use it as an oven, convert it into a smoker, or fire up delicious burgers. Built to last, this grill will serve you and your loved ones for many years.