Smoking meat in the winter is a challenge to most people, very low ambient temperatures and unfavorable conditions ( very cold wind ) make it really difficult to maintain the right temperature.
Depending on what type of smoker you have, plenty of them have thinner walls which makes them lose temperature much faster which is why smoking meat in the winter requires a good smoker and very good insulation.
Insulation provides conditions similar to smoking in the summer which prevents things from cooling down fast, lowers fuel consumption and makes it easier to maintain a stable temperature which is very important when smoking.
As I said before, difficult conditions in the winter are good at making smoking difficult for us, but if you get properly prepared by utilizing my tips below, then smoking meat in the winter will most certainly be possible.
1. Choose the right smoker
Poor quality models are made of a smaller amount of materials which is why their walls are thin, which matters a lot when smoking in snow. In the winter, such smoker simply loses heat much faster which is why it's better to use something that is good at insulating heat.
In the winter you need much more time and effort to reach the right temperature, plus you use much more fuel which is why choosing the right smoker is a very important task and it is usually recommended to get good insulation in order to make the conditions much better.
Ceramic grills are certainly great at insulating heat and are very good for smoking meat in the winter. But if you don't have a kamado then you're going to need the right insulation for your regular smoker so that it prevents quick loss of heat in winter conditions.
Another good choice is a pellet smoker, which can automatically feed pellets to the fire in order to maintain the temperature you selected. If you choose a pellet smoker, you will never have to worry about adding charcoal and you'll be confident the temperature remains fixed. But in order for everything to work as nice as I'm describing it here, you're going to need the right insulation.
2. Prepare the right place and smoker

Before you move on to smoking, you need to prepare the place and the smoker. In the winter, when there's plenty of snow, it's sometimes difficult to find the right place, first of all you should look for a place where your smoker is protected from winds, secondly it is essential for it to be outside ( it can be something like the terrace or under a gazebo, never inside closed spaces ).
In a place protected from winds and falling snow or rain, conditions for smoking meat are much more favorable. Of course you should avoid places somewhere under a table or in a place around flammable materials.
If your smoker has spent several days in snow outside then the first thing to do is clean it of snow, then move it to the garage in a warmer place and see if something isn't frozen. If any elements are frozen then wait for the ice to thaw ( you can make it faster with a hot air hairdryer ).
If everything is okay then simply move the smoker in the right place where you're going to be smoking meat.
3. Never use a smoker inside a closed space
The scent of burning wood or charcoal is not only unpleasant but in a poorly ventilated air it can be life threatening. In a closed space, a carbon dioxide poisoning may occur, which very often leads to death.
I understand that it's cold outside, but that's winter for you and if you want to smoke meat in the winter you have to get prepared that it is the best to do it outside ( preferably on the porch where you have a roof over your head ).
4. Create insulation for your smoker
Before you start your smoker, make sure that it is properly insulated. That way you will use much less fuel and it will be much easier to maintain a fixed temperature.
Insulation isn't mandatory, but it's very recommended because it increases the smoker's effectiveness significantly by creating conditions for meat smoking that are almost like in the summer.
Of course there are many methods of insulation, you can get store-bought insulation created specifically for your type of smoker, but this is an expensive option.
Those with skilled hands may make their own smoker insulation and thus spend much less on the materials ( see DIY smoker insulation ).
For that purpose, you may utilize a special welding blanket, furnace insulation, aluminum foil insulation or any other material with insulating properties and resistance against high temperatures.
I recommend checking out YouTube where you will find many useful videos on how to make smoker insulation cheap.
5. Dedicated Cold Weather Jacket
Remember that making your own insulation might turn out to be a time consuming task and require basic crafting skills. The insulating material has to be properly fitted and cut so that it fits your smoker, if you don't have time or will for that then it might be a better solution to simply buy a Cold Weather Jacket.
Most of manufacturers offer such solution, these are dedicated to specific models and give the best results but their downside is quite a high price. I think that it's a very good idea for those who love to smoke meat and do it very often even in the winter.
Another advantage of the Cold Weather Jacket is that after you're done cooking you can use it as a regular bbq cover that will be good at protecting your smoker when not in use.
6. Warm up the smoker and prepare more fuel

The smoker is ready now, so is the place – now is the time to prepare a larger fuel supply and start the smoker.
In the winter, it takes more time to achieve a particular temperature, it also takes more fuel to maintain a fixed temperature. Of course a good insulation will cut that time significantly, but you still need to have more patience because smoking meat in the cold weather always requires more time.
7. Keep the lid closed
The smoker's lid has to be closed at all times, it's a basic rule when smoking meat in the winter. No matter if you're just warming up the grill or already cooking, the lid has to always be closed.
Opening it too often results in a large loss of heat which has a negative impact on the entire smoking process ( it might make it significantly longer ).
If you want to monitor the temperature of your meat, buy a digital meat thermometer with a double probe. That way you'll be able to monitor the temperature inside the smoker and inside the meat without having to lift the lid.
Not only does it make it faster to smoke meat in a cold weather, but it also makes you sure that the meat is really ready.
8. Plan the smoking process properly
You care about time? Choose much smaller and less demanding pieces of meat.
When smoking meat in the winter, you need much more time than in the summer for example. That's why you should forget about recipes that take plenty of hours, in the winter conditions such meat would take few hours more.
9. Cleaning the smoker
After you're done smoking, you need to clean the grill, preferably while it's still hot. It is much easier to clean grill grates when they are hot, the grease and food remains are easier to remove with a regular brush.
It is a must to remove the ash and empty the grease tray or bucket. Don't put it away even for a moment because everything will be frozen solid in a short time.
Remove all the snow from it as well and leave it outside until it cools off ( considering the winter weather, it shouldn't take long in a low temperature ).
10. Storing the smoker
The cleaned-up and cold smoker grill has to be stored away in the winter in a dry and warm place. Put on the cover if you have one, make sure to check the grill's inside right before that.
There might be some animals seeking shelter in the winter that could choose your grill's inside, which is a good place to spend the winter for them. Before you put the smoker in the garage, make sure that there aren't any unwanted guests in it.
11. Think about yourself, too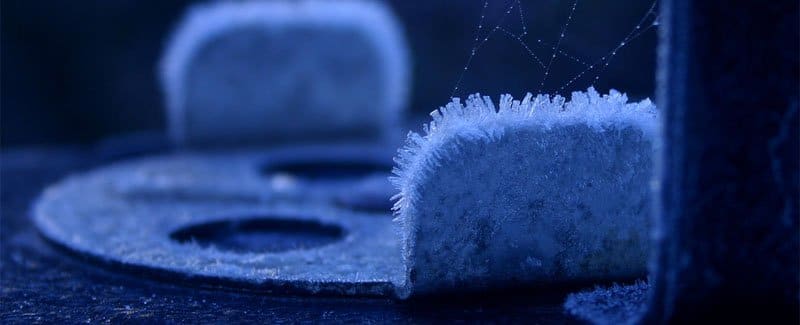 Your smoker is probably prepared for the winter conditions already, but you shouldn't forget about yourself as well. Successful BBQ is very important, but what is more important is your health, which is why you should dress warm and enjoy smoking meat even in the winter.
Above I have shared my tips with you that I hope will be very helpful. If you think there is something missing, though, share it with us by leaving a comment below. Have a nice and successful winter BBQ!