Freshness versus legend so Kamado Joe vs Big Breen Egg (BGE). Which one will win? You will find the answer to that question below.
In order to make the comparison fair, I chose Kamado Joe Classic II and Big Green Egg L size, both are nearly the same size which makes it a fair comparison especially when it comes to the price.
The things I will take into account are the price, innovativeness, features, accessories, efficiency in cooking, warranty and customer service, so without further ado, let's move on to the Kamado Joe vs Big Green Egg comparison.
In a hurry? Here's the winner!
The Kamado Joe Classic II is my top pick because of Great Features & much Better Value for the money
Air Lift Hinge
Rust-resistant Aluminum Chimney Cap
Wire Mesh Fiberglass Gasket
Stainless Steel Latch
Big Green Egg vs Kamado Joe
At the first glance it seems like BGE is much cheaper, but you have to take into account that the price of BGE covers just the Kamado without a portable cart, side shelves or a ceramic plate. The price of Kamado Joe Classic II, on the other hand, covers such accessories as a ceramic plate, side shelves and a portable cart, which is everything you need for convenient cooking.
When it comes to kamado joe and big green egg, the key difference is that BGE is officially not being sold online (only through other sellers). Kamado Joe, on the other hand, sells its products online, among other places (through Amazon).
What is the delivery of the both competitive kamados? It's an important thing because, for example, Kamado Joe Classic II weights 250 pounds (300 pounds when being delivered), which is also the case with Big Green Egg, it's a whole lot so you're going to need at least two people to carry your kamado around. On top of that, the ceramics are prone to cracking when dropped which makes it important for the delivery to be properly secured.
The assembly and delivery of Kamado
The assembly is truly very easy and in most cases it should take about half an hour. The delivery, on the other hand, is very well secured, Kamado is delivered in a very well secured box, the delivery comes with a wooden base on the bottom and a wooden cover on the top, whereas the side walls are made of thick and sturdy cardboard (not the standard regular cardboard).
I forgot about one very important thing, the delivery of Kamado is free which in case of such a heavy grill is a huge advantage.
The assembly and delivery of Big Green Egg
The assembly of BGE took me a little over an hour so I can easily say that for most people the assembly of the new Big Green Egg should take around 1,5-2h, of course less skilled individuals can pay the seller to assemble it for them (it usually costs around $50).
BGE was delivered similarly to Kamado Joe but upon a closer inspection it turned out that BGE is delivered in a standard cardboard box. BGE is much less secured than Kamado Joe.
BGE vs Kamado Joe – Features & Innovation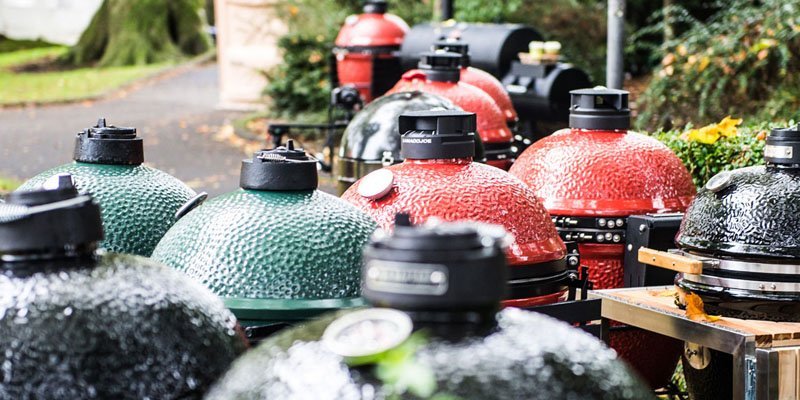 As everyone knows, the top air vent is one of the most important elements in a kamado, it decides about how much air is to get out of the inside of the grill which is crucial when cooking in terms of temperature control.
A significant difference one should pay attention to right from the beginning is what material the upper top air vent was made of. Unlike most competitive models, kamado joe comes with an aluminum upper air vent (100% rust resistant).
The construction of the upper air vent is slightly different, it has smaller regulation of the air flow on the sides as well as ability to open the upper part of the air vent in order to leave a big hole for a large amount of air to come out of.
The Top Air Vent in BGE was made of cast iron, the surface of which is rust prone. Of course the upper air vent allows for regulation of air flow, but one small downside is the fact that when you open the lid of the grill the top air vent changes its location and it has to be regulated again.
Cast iron as a material is characterized by corrosion only ever occurring on the surface, it never gets inside. Which means that when rust appears, all you have to do is get rid of it with a brush and paint or preserve the clean surface of the cast iron.
It is actually the main element that shows who really develops their product. In the example below you will see what innovative solutions in grills that actually improve the convenience of cooking look like.
Kamado Joe Classic II – For the first time in the history of ceramic grills, a mechanism was introduced in the lid's hinge. It is an innovative solution that allowed to reduce the lid's weight by about 95%. It prevents the lid from dropping when you don't hold it as well as makes it possible to open it even with just one finger.
When you open the lid and take your hand off, the mechanism takes over and the lid will be going down slowly. A heavy lid is not a problem to strong people but for most women it might be a bother, as well as those who are limited in lifting heavy things.
Big Green Egg – No hinge support mechanism, one should be very careful when lifting the lid. When you open the lid all the way and stop holding it, the heavy lid will drop down hard, something like that can even lead to the ceramics cracking or having your fingers/hand crushed (Dangerous to children and careless people).
Plenty of people complain about rust appearing on elements of the mechanism after just few years of use
Kamado Joe – Almost twice as big as the one in the competitive BGE which makes the temperature indicators bigger and clearer.
Big Green Egg – About half smaller than in Kamado Joe Classic II, it is harder to see the temperature on it.
As each of us knows already, when charcoal burns it creates ash, which has to be removed from the grill preferably after each cooking. Luckily for you, kamado is the easiest to clean of the ash when it comes to charcoal grills, but manufacturers have different approaches to the topic.
Kamado Joe Classic II – When it comes to the red kamado, ash removal was solved much better. Behind the bottom air vent there's an ash drawer that you can remove whenever you want to throw away the ash in your grill, and then all you have to do is put it back in its place.
Easy, fast and most of all clean, you don't need any brushes or additional containers under the grill to keep the ash in.
Big Green Egg – On the bottom of the grill, right behind the air vent, there is ash that has to be removed manually using the ash rake. A metal ash container has to be placed underneath the hole to avoid getting the surroundings dirty.
Cleaning ash in the BGE is easy, but some people might find it to be kind of a poor solution to the problem.
BGE vs Kamado Joe Classic II – The interior

Despite both grills representing the same type of ceramic grills, the internal elements actually slightly differ in both grills.
Grates / The Cooking Area
Kamado Joe Classic II – Inside you will find a dual rack system that will allow you to set different heights for different kinds of food. On top of that, you also get a hot rack grabbing tool that will allow you to move hot grates easily, quickly and safely when need arises.
Big Green Egg – It comes with standard grilling grates that are only set at a single height. If you want to lower the height a little then you can remove the ceramic plate and lower the height of the grill grates by a little over 2 inches.
The efficiency of cooking
When it comes to the difference in the food cooked then there actually isn't any. Both grills represent cooking efficiency of the highest quality.

Below I'd like to list other less important elements that I paid attention to when comparing both, Kamado Joe and Big Green Egg.
It is there to make the space between the lid and the rest of the grill tighter so that after closing the lid no smoke or air comes out. Of course it is an element that wears down over time and has to be replaced.
Most manufacturers install standard regular gaskets, as is the case in Big Green Egg.
Kamado Joe Classic II, on the other hand, is equipped with Wire Mesh Fiberglass Gasket, which is several times as durable as standard gaskets, such gasket can mostly be found in an indoor oven (it is much more resistant to high temperatures).
Without a doubt, in both models the stand serves its purpose very well, but upon closer inspection, the quality of workmanship is significantly better in Kamado Joe Classic II, in which the stand is made of thicker steel and also welded.
Big Green Egg, on the other hand, has thin steel held together with screws which obviously isn't a bad solution either, although it is slightly poorer than in Kamado. However, time shows that in both cases the stands work just fine.
The winner here is definitely Big Green Egg, which has pleasant to touch foldable wooden shelves. The surface is covered with an anti-slip coating, and its appearance and texture give us pleasant sensations.
In Kamado Joe Classic II we will find less interesting side shelves compared to those in BGE, but they are certainly more durable. They are made of plastic, which is much more resistant to different external factors than wooden shelves.
Big Green Egg has much bigger wheels which is better, but the wheel locks are made of plastic whereas in Kamado Joe Classic II the locks on the smaller wheels are made of metal.
Warranty – In both models, the manufacturers provide a lifetime warranty for the ceramic elements as well as a limited warranty for smaller, usually metal elements. Anyway, a ceramic grill is an investment for life as long as you take good care of your grill.
Video Comparison Kamado Joe vs BGE
If you prefer a comparison of these two barbecues in the video version, I recommend to watch the video below. Exchange Bar and Grill is not the owner of this video, but we appreciate the substantive value in this video and recommend it to you if you prefer a live video comparison.
Without a doubt, Kamado Joe and Big Green Egg are two great ceramic grills that allow to prepare delicious food. However, my main task was to compare both grills and pay attention to what is better and to make the final choice of which grill I think is better (of course the rating is objective).
So far, the analysis shows that there is no difference when it comes to the flavor and appearance of food in both grills. You can cook equally delicious food on both grills. A small difference, however, is the price, whereas a big one is innovative features and finishing of elements. In that regard, the winner is clearly Kamado Joe Classic II.
Despite my love for Big Green Egg and huge sentiment to it from all those years of cooking, I have to objectively say that this time I would choose Kamado Joe Classic II because there's a clear difference in regards to many elements. Big Green Egg doesn't have any innovative features and it looks like not much time was spent over the last couple of years developing this great grill.
Kamado Joe, on the other hand, has been on the market since 2009 and it's been working on developing their product since then. We can see the results in form of new solutions, the manufacturer of Kamado Joe took all the best things about Big Green Egg and added several very neat features and solutions while also taking care of the highest possible quality of the finishes of all elements. Thus a red ceramic grill was made that is better than Big Green Egg when it comes to innovative features and finishes of the elements.
The price is also worth mentioning, which is slightly lower than in Big Green Egg when we take both grills into account with all the extra accessories that in BGE are sold separately.
If I were to pick a ceramic grill now, I would buy Kamado Joe Classic II. For a slightly lower price it offers much better quality of finishes in the elements as well as an innovative hinge, a dual grates rack system and an ash drawer (plus obviously my favorite color of red, but that's a minor detail).
Big Green Egg is an icon of the Kamado style so if it's important to you or you simply love the green color then you should pick BGE, you will certainly not be disappointed when it comes to cooking because there's no difference in flavor and appearance of food in both those grills.