Whether you want to buy the best gas grill to use for your family barbeques or just to cook your day-to-day meals, the decision can be overwhelming with so many options on the market.
For a big purchase like a grill, it's wise to stick with a well-known, reliable brand, such as Weber and Napoleon.
While these two grill manufacturers both offer top-quality products, you need to narrow your options down to one. To help you make an informed decision, we came up with an in-depth analysis of each brand.
Napoleon vs Weber Gas Grill
For this review, we compared the most sought-after grill models for each brand —the Weber Genesis II S-435 and Napoleon Grill Prestige 500 RSIB.
Weber Genesis II S-435
Weber's Genesis II Series has 14 various grills that are all fitted out with excellent features. The Weber Genesis II S-435 is one of the top-quality BBQ grills from the series.
This unit is available in two types: a propane and a natural gas grill. The model flaunts four high-grade steel burners. It can deliver fuel efficiency ratings of 48,000 British Thermal Units (BTUs) every hour. The unit also boasts a side burner and a sear station for a superb grilling experience.
What's more, the Weber Genesis II S-435 comes with two durable tables on the side that have cohesive tool storage hooks. It also has a cabinet where you can store some of your grilling tools.
Napoleon Grill Prestige 500 RSIB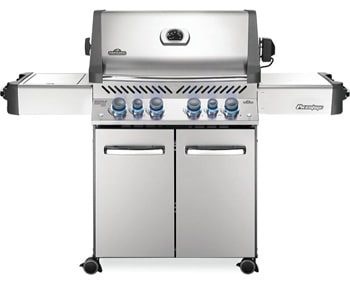 The Napoleon Prestige 500 RSIB is part of the Prestige Series, which features four grilling packages. Napoleon markets this specific unit as a comprehensive grilling set because of its feature-loaded design.
The Prestige 500 RSIB is a cart-mounted stainless steel grill on par with the Weber Genesis. This model also has a natural gas and a propane version, just like its competitor.
Like the Weber Genesis II S-435, the unit has four top-quality main burners that can deliver 12,000 BTUs. It also has a rotisserie rear burner that provides 18,000 BTUs and an infrared burner that produces 14,000 BTUs. The four main burners connect to the rear and front burners.
Features Face to Face
Brand History
Weber-Stephen Products LLC has been in business since the 1950s. It is a private-owned producer of charcoal, gas, electric grills, and grilling accessories. George Stephen Sr. established the company due to his desire to make grills a staple during family cookouts. His lidded grills were a hit during the 1960s and 1970s, and his products were featured on TV.
Napoleon Grills is a few years younger than Weber-Stephen Products LLC. The company started in 1976 as a small-time metal fabrication enterprise in Canada, which broadened into manufacturing grills after a few years. With their quality and durable designs, Napoleon easily became one of the leading grill manufacturers in North America.
Price
Considering that Weber and Napoleon are two renowned brands in the industry, their products can be relatively costlier than those of other small-time manufacturers. Napoleon and Weber both put a premium on the quality and make of their grills and accessories. They use high-grade materials and add top-notch features that make the units stand out in the market.
At present, the Weber Genesis II S-435 is available for $1,249, while Napoleon Prestige 500 RSIB is available for $1,499.
In general, Weber grills tend to be pricier than Napoleon, but the price range varies from one unit to another. Napoleon and Weber both offer some affordable options.
Cooking Space
Comparing these specific models based on the grilling space, the Napoleon Prestige 500 RSIB wins over the Genesis II S-435. The Napoleon Prestige 500 RSIB has a total cooking space of 900 square inches, and the manufacturer claims that it can grill up to 30 hamburger patties at once. This makes the grill an efficient option if you are planning to feed a big group of people during your cookout parties.
The Weber Genesis II S-435 is slightly smaller at 844 square inches of cooking area. This includes its primary cooking space of 646 square inches and warming rack area of 198 square inches.
Grill Grates
Both Weber and Napoleon use stainless steel cooking grates that provide top-notch heat retention. This helps in achieving fast and even grilling. However, we prefer Weber's grates over Napoleon's for several reasons.
The Weber Genesis II S-435 prides itself on durable 7mm steel rod grill grates. Weber's grates allow for even heat distribution, so overheating won't be a problem. You can even monitor the grill's performance through the iGrill app, which is linked to the grill's built-in thermometer.
Napoleon's grates are made of 7.5mm stainless steel. Since they are a bit thicker than the Genesis II S-435's grates, the food may stick to the steel. To avoid this, make sure that you lubricate the material properly with some oil.
The Napoleon Prestige 500 RSIB also has a thin warming rack, which could get damaged if left in place for too long while using the rotisserie rear burner or infrared burner. Make sure that you remove the warming rack when using the infrared burner or rotisserie rear burner.
Build Quality
Both the Weber Genesis II S-435 and the Napoleon Prestige 500 RSIB have top-notch build quality.
The Weber Genesis II S-435 offers an unparalleled build quality compared to other old-fashioned grilling units. With its sturdy materials, the grill is built to last and won't get damaged for many years. The Genesis II S-435 has porcelain-enameled gratings and lid which means the grill can maintain high levels of heat and is easy to clean. All in all, the grill is hard-wearing inside and out.
The Napoleon Prestige 500 RSIB's overall build quality is also comparatively great. Thanks to its superior 304 stainless steel, the grill is sturdy and can survive many years of usage. It has a double-layered stainless lid that helps enhance its heat retention capacity. The grill grate is thick and durable.
Brand Reputation
Weber and Napoleon have both established good reputations over the years. These two companies have been in business for decades, so they know the secret to manufacturing high-quality grills that can last for a long time. With their superior products and great customer services, Weber and Napoleon are well-known for high client satisfaction.
Weber is known for:
Producing top-quality and hard-wearing grills
Having a broad distribution network that makes the products easily available
Adding highly advanced and innovative features to the grills
Offering different grilling accessories that enables grill system customization
Napoleon is known for:
Comparatively lower-priced grills that are ideal for those on a budget
Producing highly efficient infrared grill systems
Manufacturing well-built and durable grills
Top Features
Weber Genesis II S-435:
GS4 technology system for a superior grilling experience
Four stainless high-efficiency burners, a searing burner, and a side burner
Highly efficient grease and ash management system
Can be used with iGrill app for wireless tracking of the cooking
Durable grates that allow for excellent heat retention
Stainless covering that retains heat during cooking
Closed-cart build with sleekly painted metal doors
Two cabinets to store your grilling accessories
Napoleon Prestige 500 RSIB:
7.5mm stainless steel WAVE™ grids
Infrared "sizzle zone" side burner that can reach 1800 degrees
LED control knobs for nighttime use
JETFIRE™ Ignition System that individually starts up the burners for safe grilling
Easy to move considering its size
Even distribution of heat
Immense total cooking space of 900 square inches (including the warming rack)
Can deliver 80,000 BTUs
Double-layered metal searing plates
Available Accessories
Weber Genesis II S-435:
Durable Premium Grill Cover – Made of breathable and water-resistant polyester, the cover efficiently protects the grill from the weather.
Sear grate – The Weber sear grate is made of cast iron that seals in the flavor and moisture of the food. It also prevents food from sticking. The accessory fits into the grill and stays in place as you cook.
Rotisserie – The rotisserie gently rotates food above the cooking grate, producing succulent, self-basted meat directly from your backyard kitchen.
Deluxe Grilling Basket – If you want to cook small slices of vegetables and meat, the Weber grilling basket will be your best friend.
Griddle – The Weber griddle allows for fast and even heating. This guarantees that your food cooks deliciously ( learn more about outdoor gas griddles ).
iGrill3 – The iGrill3 is a thermometer that connects to a mobile app. This helps you track the cooking process and notifies you when your food is ready.
Napoleon Prestige 500 RSIB:
Pro 500 and Prestige 500 Series Grill Cover – The grill cover is waterproof and durable, with enhanced UV inhibitors to prevent the premature fading of the material.
Pro Stainless Steel 3 Piece Toolset – Napoleon offers a toolset comprised of a spatula, tongs, and silicone basting brush.
Cast Iron Charcoal and Smoker Tray – You can turn your grill into a charcoal smoker and grill to give your food an improved flavor.
Design
The Weber Genesis II S-435 is a cart-style grill that is ideal to use outdoors. It has two swivel casters and two durable back wheels that make it easy to transfer. This Genesis II S-435 also has two metal tables on the sides for additional workspace and storage. With stunning stainless steel construction, the grill looks sleek and elegant. The Weber Genesis II S-435 is available in stainless steel and black finishes.
The Napoleon Prestige 500 RSIB also has a long-wearing stainless steel construction, which makes it just as sleek as the Weber Genesis II S-435. The Prestige 500 RSIB is also a cart-style model, which makes it easy to move and use outside. One of my favorite features is the NIGHT LIGHT™ knobs that illuminate in the dark. With these safety lights, you don't have to worry about leaving the gas on.
Warranty
Weber and Napoleon both offer an extended warranty period for their products, but there are key differences in the way the two brands grant the warranty.
From the original date of purchase, Weber provides a 10-year warranty on all the parts of the grill. These include the burners, grill grates, grease management system, lid, and more. Note that normal wear is excluded from the warranty. Only the original buyer of the grill can take advantage of the warranty.
Napoleon grills come with a unique warranty package, as selected parts of the grill have a lifetime warranty. These include the cover, cooking grids, aluminum castings, and stainless steel base. The gas burners and cooking grids have a 10-year warranty, while the infrared and rotisserie rear burner have a 5-year warranty. It's a complex system, but the lifetime warranty is surely worth it.
Napoleon Vs Weber – Final Verdict
When you're trying to choose between a Napoleon vs Weber gas grill, both brands have their own strong and weak points. If you're looking for a high-end grill with a great value for your money, you can't go wrong with either Weber or Napoleon.
Both grills are easy to use and have their fair share of cool features.
Weber's grills are known for being innovative. The brand focuses on advanced features for its grilling systems. The Weber Genesis II S-435 is a sophisticated model that's ideal for those who enjoy modern conveniences.
Meanwhile, Napoleon has a reputation for durability. The company puts a premium on the build quality of its grills. They are less expensive than Weber, so if you're looking for a more economical option, you may want to pick Napoleon.