Once you've evolved your barbeque skills to become a master smoker, you're going to need a more complex cooker than a standard Weber kettle.
At first glance, there's nothing special about the Pit Barrel Cooker. It's just a black 30-gallon drum. But looks can be deceiving. This drum smoker leaves many amazed after they realize its full potential.
There haven't been many innovative drum smokers in the market that can compete with the Weber Smokey Mountain. However, I think the Pit Barrel Cooker gives it a run for its money.
In this Pit Barrel Cooker review, I'll cover every aspect of this cooker, including the design, portability, and of course, the quality of the barbecue.
Pit Barrel Cooker Overview
The body of the cooker is a 30-gallon drum made with 18-gauge steel. The outer layer of the drum is made from porcelain. It can handle extremely high temperatures and comes with an external cooling system.
One of the most notable features of this cooker is the hooks and bars that come with the set. This allows you to have a wider cooking variety when smoking ribs or other meat.
There are also a few mounting holes that are already drilled into the body so you can attach a mounted bottle opener or other accessories.
Pit Barrel Cooker

Cooking Surface:

N/A

Best hanging meat smoker
Warranty:

1 Year

Check Latest Price
What I Like:
This cooker is hands-down one of the best for cooking ribs. The hooks make everything so much easier. It also accentuates the smoky flavor that you can't get from an electric smoker. The quality of the food you'll get from the Pit Barrel Cooker even stands up to what you can get at some restaurants with commercial-style smokers.
Though the drum is large, it fits well on a deck or in the backyard. It doesn't take up as much space as some massive Grillmasters, yet you can churn out almost the same amount of food.
The cooking time is much shorter than other smokers. You can have a nice juicy rack of ribs that fall off the bone in about three hours. This is perfect for any last-minute get-togethers where you don't have all day to cook.
The Pit Barrel Cooker is super easy to clean. This is something I always look for in a cooker because keeping it clean is crucial. All you need to do is remove the charcoal from the bottom of the cooker after you're finished. Since the hooks are made from stainless steel, they don't need to be cleaned after each session.
The customer service is solid and there's a large community of users to reach out to whenever you're looking for help or new ideas. This is important because when problems do arise, they are resolved quickly.
What I Don't Like:
Sometimes the temperature can be a bit difficult to control if you're a beginner. But after a few times, you should be able to get the hang of it.
You need to have constant airflow, especially when smoking ribs. Perhaps if there was an easier way to regulate airflow, this cooker would be unbeatable.
The PBC is great for short cooks, but for long cooking, it can be quite challenging. Again, that's due to airflow and having to add more charcoal.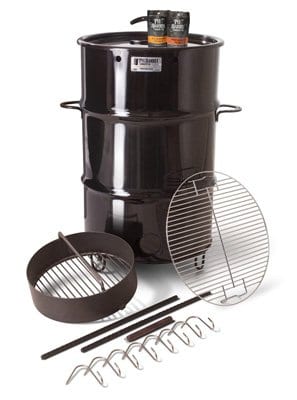 How Easy Is It to Use?
One of the main reasons this cooker gets such good reviews is because of its simplicity. There is a slight learning curve, but you don't need to be a barbecue master to start enjoying the Pit Barrel Cooker. The included instructions tell you everything you need to know to start cooking.
Here's a basic overview of how to start using the Pit Barrel Cooker:
Load the charcoal to the top, making sure it's evenly spread.
Thoroughly cover all of the charcoal with lighter fluid.
Place the basket at the bottom of the barrel and light the fire.
Let the charcoal burn for about 15-20 minutes.
Add your meat and close the lid.
The damper comes with a "set it and forget it" feature which is incredibly useful, especially for a beginner. All you need to do is set the damper to the setting recommended in the instructions and let the magic happen! This will ensure consistency and will improve the taste of your food.
As long as you follow the instructions properly, you can expect to have some amazing barbecue. Your friends will think you're an expert when the PBC is just that simple to use. The PBC doesn't require much maintenance and the clean-up is very easy.
Build Quality
The porcelain enamel really gives this cooker a big boost. As mentioned above, this cooker is very low maintenance. That's because all of the parts are durable and set in place. Other cookers have too many loose parts, which usually leads to either missing or broken pieces.
The drum itself is very sturdy when in place, and not too difficult to move around. I wouldn't recommend carrying it long-distance too often, but if you need to shift it around your deck or yard, you shouldn't have any issues.
Thanks to the cylinder shape, you get a nice even cook throughout the meat. Other cookers sometimes burn some of your food due to the uneven surface temperature. This can ruin the overall quality of your barbecue.
Cleaning
Anyone who barbecues regularly dreads cleaning their cooker afterward. However, it's essential for keeping your cooker well-maintained and extending its life. Fortunately, the PBC is super easy to clean and doesn't require much effort.
All you need to do is dump the charcoal out from the bottom when you are finished. You can even lay down some aluminum foil to make things easier. You do need to clean the hooks now and again, but not after each use because they are stainless steel.
You don't need to ever clean the inside or outside of the drum (unless you've spilled something foreign inside that will ruin the quality of your meat.)
Smoking Setup (Meat Hooks)
In terms of smoking, the PBC is by far one of the best in the game. You get a rich smoky flavor in all your food that lingers in your mouth even hours after eating.
As mentioned above, the set comes with stainless steel meat hooks that are hung on steel bars, which give you maximum flavor in a minimal amount of time.
You can use the hooks to cook ribs, chicken, steak, or anything you want (I encourage you to get creative!) The hooks are strong enough that you don't need to worry about food falling to the bottom of the pit.
Pit Barrel Cooker vs. Weber Smokey Mountain
For the longest time, the Weber Smokey Mountain reigned supreme in the realm of pit smokers. This isn't unjustified because the WSM has some cool features. It's a bit more expensive than the PBC, but is the extra money worth it in terms of quality?
I think the PBC is a slightly better cooker in terms of price and simplicity. You can't beat how easy the thing is to use. The Weber Smokey Mountain is suitable for more long cooks, but for a basic backyard setup, I don't think it's necessary.
Weber's grill does have a large surface area. The internal temperature of the Weber Smokey Mountain can reach up to 190 F, which is optimal for an even cook.
In the end, the decision comes down to your goal and budget. Weber is a household name in the barbecue industry, so of course, you can expect a high-quality product for a higher price. However, the PBC can provide similar value and some great features at a lower price range.
Summary: Should You Buy It?
There's no doubt that the PBC can produce exceptional barbecue, as you've probably gathered throughout this Pit Barrel Cooker review. The options may not be as versatile as with the Weber Smokey Mountain, but you won't be disappointed with the PBC.
If you want to have full control over your smoker, then the Pit Barrel Cooker may not be right for you. If you're looking for a simpler way to get into smoking meat, then the Pit Barrel Cooker is a great place to start looking.
The PBC is the professional-grade version of all those DIY backyard drum cookers.