Brining is a process that you need to perform if you want your meat to be moist and taste great after cooking. It's a necessary procedure if you're planning to grill something using a barbeque or a smoker.
Temperature may cause your meat to be dry on the inside, which is why brine is used before cooking meat to give it a great taste and hold the water inside the meat. That way we prevent the meat from dehydrating, which might occur during the cooking.
It also causes the meat to be moist on the inside, aromatic, give it a nice color, aroma and makes it juicy.
What are the ingredients of brine? It is mostly water, a little bit of salt and condiments ( herbs, pepper, garlic )
You can find more on how brine works here.
Pork Shoulder Brine- Simple Recipe
It is a necessity if you planning to cook a pork shoulder using a grill or a smoker. A brine made using that recipe is perfect for all kinds of meat.
Ingredients:
10 C water
¾ C salt
½ C sugar
4 sprigs rosemary
2 Tablespoons Peppercorns
2 bay leafs
½ onion
6 cloves garlic (cracked)
Should you use hot water? I know that many people say you should. But the truth is, you don't have to use warm water.
Sugar and salt dissolve well in a room temperature water. Whether you choose to use hot water is up to you.
You should remember one very important thing, though. If you use hot water, you have to wait for it to cool down, and only than you can put the meat in. It is very important.
Once you dissolve the salt and sugar, you will need a container to put your brine together with the meat in.
You need to use the right container for that so that it doesn't react with the salt.
You can use stoneware containers for that (the best type) or glass ones, or enamel ones even ( do not use aluminium or steel containers).
Alternatively, you can even use plastic containers, such as a large zip lock bag.
They're good for about a dozen hours or so, I don't recommend using them for few or a dozen days due to the salt.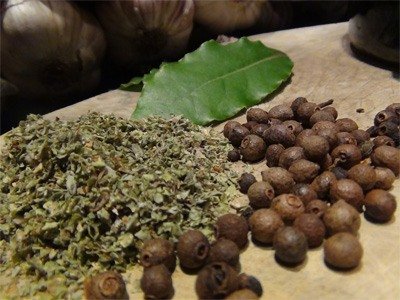 The next step – How to Brine Pork Shoulder
Put the meat where you keep the brine, then add the rest of ingredients and put your container with the meat completely submerged inside in the fridge.
How long you should keep the pork shoulder depends on the number and thickness of the pieces.
Obviously, smaller one take shorter while bigger ones require a little more time. But taking quantity in this recipe into account ( 9 pounds of pork) 18~ hours is enough.
Usually it's 12-20 hours depending on the size of your pieces.