With summer around the corner, grilling season will be here before you know it. Warmer weather makes cooking outside, without heating the kitchen, extremely desirable. The opportunity to socialize and enjoy the season is a welcome bonus.
Most charcoal grills are notoriously finicky and hard to manage. Not this one! I've found it a versatile setup that's easy to control, no matter what you're cooking.
Plus, you keep the classic charcoal grilling taste and smell.
The Weber Performer Deluxe, previously called the Weber Performer Premium, is an outstanding charcoal grill. It comes with many features that are sure to take your outdoor cooking to the next level.
Keep reading for my full Weber Performer Deluxe review.
Weber Performer Deluxe Overview
The Weber Performer Deluxe is an outstanding grill that comes complete with many features. It won't blow your budget, but still cooks a wide range of items well. Its quality is backed by an extended warranty and a brand that has proven itself a stalwart in the industry over the years.
Weber Performer Deluxe

Cooking Space:

363 sq. in.

Warranty:

10 years

Great Work Space + Features
Gas ignition system

Check Latest Price →
What I like:
The grill does everything well. Its preparation surface is stable, and the coal storage is secure. You feel the high standards of manufacturing through every step of the cooking process.
Both setup and cleanup are a breeze. The coals light instantly without the hassle, and all cooking surfaces are non-stick and easy to clean.
You will enjoy socializing while dinner cooks, and you can eat your meal without the stress of a lengthy clean up afterward. The easy process ensures that you'll use your grill regularly instead of letting it collect dust between special occasions.
It's a versatile grill that's able to cook many different meals. The temperature control options combine with the massive variety of accessories to create seemingly limitless possibilities. From breakfast through dessert, you can make it on the Performer Deluxe.
You get all this at a bargain price, too. With the Performer Deluxe, it is not necessary to have multiple, thousand-dollar appliances taking up space in your yard so that you can prepare meals outside. One grill can handle anything you throw onto it without breaking the bank.
What I don't like
My primary complaints revolve around the timer and thermostat that come with the grill. The timer only goes to 99 minutes. For many meals, such as a barbecue or similarly "low and slow-cooked" meat dishes, you need much more time than that, so a phone alarm or longer-lasting kitchen timer is needed.
The thermometer is built into the lid of the grill and only measures temperatures up to 470 degrees Fahrenheit. The temperature inside the grill is always hotter than the cover and easily exceeds that maximum ( start using dedicated smoker thermometer ).
It's disappointing that Weber doesn't take better advantage of the technology that exists, but it seems like they're beginning to catch up with the times, based on the features of even newer grill models.
In the meantime, you can find high-quality meat thermometers. These not only indicate the internal temperature of your food but also note the heat levels closer to the cooking surface. The device setup allows more precision cooking than the current thermometer built-in to the Performer Deluxe.
Features
When many people picture cooking on a charcoal grill, they imagine a smokey scene riddled with frustration and potentially burned food. The outdoor cooking industry has come a long way, and the Weber Performer Deluxe is a grill packed with features that make perfect meals attainable for anyone.
The automatic lighting system makes setup a breeze. Place charcoal in the baskets and press the button. Then, all you have to do is wait for the cooking area to heat up.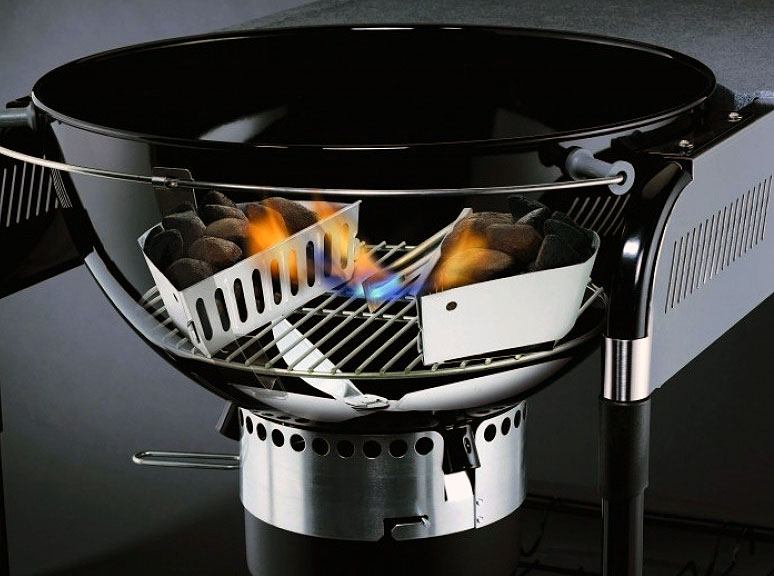 Multiple char-baskets allow you to move coals and control the temperature easily. Whether you're cooking a variety of foods at once or your recipe requires an adjustment, it's a straightforward process. All it takes is pulling a basket out of its slot and sliding it into a new one.
The cooking possibilities don't end with temperature control—this Weber grill line has many accessories that work with the heated space, too. You can make anything from baked goods to stir-fries, in addition to traditional grilling foods.
Once you finish cooking, the ash catcher and Easy Clean coating make the after-dinner process a breeze. Your yard and patio will be free of ash that other grills might have allowed to escape.
All foods stuck to the cooking surface wipe off with a damp cloth when the surface has cooled slightly.
Build Quality
It's true that people don't make things like they once did. With increased production loads, Weber's grills are not as durable or long-lasting as a few decades ago.
The Performer Deluxe is one of the most stable, high-quality charcoal grills built today, though. It will hold up to years of outdoor cooking with the right care.
All the components are solid and durable, and you shouldn't have to repair or replace anything for quite a while after purchasing. Quality assurance allows you to buy all the fancy components you like for enhancing your grilling experience further.
Cleaning
The Performer Deluxe is one of the most straightforward charcoal grills to clean available on the market today. It has two unique characteristics to make this happen.
Firstly, there's an enclosed ash-catcher built into the grill. The design feature prevents soot from blowing around while you're using it. Your patio or yard won't be covered in ash by the time the grilling is complete.
Secondly, there is a one-touch cleaning system. The inside of the grill sports a porcelain-enamel coating. All you need is one wipe with a damp cloth, and the cooking surface is perfectly clean.
Accessories
Grilling is no longer only for hot dogs and hamburgers. Food trends have evolved to include a variety of grilled options—from gourmet to international and vegetables to pizza, people are cooking it all over the coals.
Weber's accessory line keeps up with cooking trends. There are wok's, pizza stones, griddles, and even cast-iron bread pans. Opportunities abound to let your cooking creativity run wild.
Temperature Control
Often, charcoal grills have one temperature. If you need the air to cool, then you'll have to wait for the coals to burn lower.
The Performer Deluxe solves this struggle once and for all. It has two char-baskets that allow you to move the heat source around underneath your cooking surface. These moveable compartments let you control the temperature, as you can have both hot zones with direct heat and cooler zones with indirect heat.
Control over your cooking temperature lets you make a larger variety of foods at once. You won't be stuck preparing half the meal inside or letting your main dish get cold while you wait on the buns and sides.
Smoking Setup
With the Performer Deluxe, you can start cooking in as little as ten minutes from the ignition of the grill. Begin by filling the basket with your nuggets, hit the Touch-N-Go automatic lighting button, and that's it. All you have to do is wait for the cooking surface to reach your desired temperature.
It's simple to move the buckets of coals to adjust the temperature across the cooking surface, too. You can cook different items simultaneously without much effort.
Price & Warranty
Many comparable outdoor cooking setups require an investment of a few thousand dollars for you to be ready to go. So, with all the included features, you'd expect this grill to cost $1,000 easily—thanks to Weber's commitment to value, that's not the case.
The final price depends on the color you choose. Currently, the Performer Deluxe comes in copper or black. The bold, copper-colored setup is slightly more expensive, but both are below $500.
A ten-year warranty protects your investment, so you can rest assured that you'll be feeding your family off this grill for many years to come.
Performer Premium vs. Deluxe
Every grill in Weber's performer line has similar features, including the Gourmet BBQ system and an impressive warranty. The differences lie in the bells and whistles also included with your purchase.
The Performer Premium has a CharBin, a removable timer that ensures you won't overcook your food. It also has a large work surface. However, you must light it with a lighter.
The Performer Deluxe has all the bonus features you'd expect with the name. It lights automatically using an electric gas igniter, and you also get the Gourmet System Sear Grate that is unavailable with any other grill in this line.
Final Verdict / Should you buy it?
My answer is a resounding, "Yes!" The Performer Deluxe is an excellent grill from a brand that you know and trust. The 10-year warranty also helps you purchase with confidence.
The design and included features help it to stand out from the crowd—you can control the temperature, use the automatic lighting function, and clean the entire cooking surface with ease.
Weber Performer Deluxe

Cooking Space:

363 sq. in.

Warranty:

10 years

Great Work Space + Features
Gas ignition system

Check Latest Price →
Whether you're learning to grill or mastered the art of cooking on charcoal long ago, you'll appreciate the ease and quality of Weber's Performer Deluxe.