Sometimes, you want to grill your barbecue favorites when you're not at home. Camping trips, tailgates, and picnics are ideal situations for brats or burgers, but lugging your giant grill to these events isn't feasible for most folks.
Maybe you live in an apartment with a tiny patio or townhouse with shared outdoor space. You want an option for outdoor cooking that you can bring inside for safe storage when you finish the meal.
The Weber Q1200 is a powerful portable grill that is perfect for travel or small spaces.
It's easy to clean, and it cooks food like a dream. You won't be disappointed adding this unit to your setup at home or on the road.
Keep reading for my full Weber Q 1200 Review.
Weber Q 1200 Overview
For a small grill that can handle all the adventures you bring it on, the Weber Q 1200 is up for the task. Not only is it easy to use and maintain, but it also looks great and comes backed by the Weber guarantee.
What I like:
My favorite part of this grill is the nonstick cooking surface. It makes it simple to clean, and you can cook a variety of foods with ease. The highly adjustable temperature control knobs and accurate thermometer help with this process, as well.
There is plenty of work surface available for a small unit. The two side tables are sturdy and each tuck away to save space when the grill isn't in use.
The grill is easy to light and, thanks to extra wind-blocking protection, stays lit in all weather. It also comes in a large variety of colors and designs that allow you to show your personality through your choice of grill.
What I don't like:
Despite its compact size, the Q 1200 is not as easy to transport as you'd expect. It's heavy, and the lid doesn't close securely. The propane connection also gets in the way of the carrying handle.
Despite built-in wind resistance, you're still likely to find yourself frustrated cooking on a blustery day out in the open. If it is not secured, the grease trap insert may blow away, too.
In the best-case scenario, you will lose your foil liner. Often, you'll end up cleaning spilled grease that flew everywhere with the disposable insert.
If you'll be using your grill for more than one meal at a time, using the adaptor to connect to a larger tank is worth consideration. Not only do you create less trash, but you also don't have to wrestle the canister into its threads regularly.
Design & Build Quality
The Weber Q 1200 has a manufactured aluminum lid and body. The metal prevents rust and resists bending or denting well. It takes a lot to damage the grill body.
The frame is glass-reinforced nylon. It attempts to keep the weight down while maintaining stability and strength, and it does a great job of keeping the unit still while you're working.
The combination of aluminum and nylon create a strong unit overall. The Q 1200 can withstand poor weather and heavy use for a long time—you don't have to worry about it cracking or breaking.
You aren't stuck with a grill that looks like everyone else's when you purchase the Q 1200. It has eight color options, eight college football logos, and even a Harley Davidson option. Your personality and allegiances can shine while you cook.
As a bonus, there won't be any confusion over whose grill is whose in a crowded area.
Performance
With a one burner grill, you typically don't expect to cook anything quickly. However, the Q 1200 has an 8,500 BTU burner, which cooks fast. The speed is especially notable for such a small grilling surface.
One of the best parts is the nonstick cooking surface. You can cook traditionally sticky foods, like tomatoes or fruit, and slide it off with ease.
The rest of the grill's elements function reliably. The electric ignition works with every use of the button, and the infinite control burner lets you set the perfect cooking temperature, as measured by the accurate built-in gauge.
Cleaning
I've never used a grill that is easier to clean.
The porcelain-enameled cast-iron grates are easy to wipe off, wash with soapy water, or throw into the dishwasher.
The grease trap slides out with an optional disposable foil insert. Either clean it and put it back for your next meal or toss the liner in the trash and replace it with a new one.
Mobility
The tiny grill weighs a whopping 31 pounds. It is not lightweight nor designed for long treks.
If you'll be moving it from the car to the picnic table or from the closet to the patio, it's not so bad.
The one mobility challenge comes from the fact that the carrying handle conflicts with the propane regulator. When the propane bottle is attached, it's hard to grasp the grill securely.
Moving it remains possible, just a touch more awkward. After a few trips, you will master the carrying technique.
Accessories
When you purchase Weber's Q 1200, there are not lots of extra tools or parts in the box. You receive the grilling unit, and that's it. When your goal is a small, portable grill, less is more.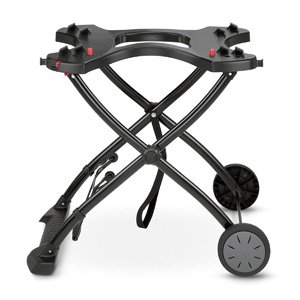 If you plan to use the Q 1200 in a more permanent location, there are myriad accessories available.
A portable stand allows you to cook without sitting on the ground or taking up space at the table.
An adaptor hose lets you use a larger, refillable propane canister, instead of the disposable options.
For grills that will sit outside, a cover also protects it from the elements.
Assembly
Some grills come to you completely disassembled with parts everywhere, but that's not true for the Q 1200. You do have to attach some pieces, but it's straightforward—all you need is a screwdriver.
The grill comes with the base assembled and side tables attached. Flip the side tables to the open position and stand up the grill.
Then, you'll attach the lid and handle using the hardware provided. The directions precisely explain which pieces go where.
Finally, the thermometer and burner control twist into place with either a wing nut or threaded insert. The cooking grates and grease trap slide into place.
Wind Resistance
Weber tried hard to make a completely wind-resistant travel grill, and they almost succeeded. Unlike other models, the burner stays lit, and the lid doesn't fall shut with heavy gusts.
The grease trap insert does not handle wind well, though. It flies away quickly.
A wind barrier or some method of anchoring should keep it still.
Cooking Space & Workspace
The Weber Q 1200 has 189 square inches of cooking surface. At first glance, it seems small. You can typically cook three to four servings of food at once, dependent on the food type and hunger-levels.
Each side of the grill has a sturdy, flip-up, plastic shelf. These shelves each comfortably hold a full-size plate. When you're cooking on the ground or your truck's tailgate, this surface helps keep the general cooking area and your utensils clean.
Price
The Q 1200 is not a minor investment. There are many cheaper options available, but this is a durable grill that can handle many years of adventures in any weather.
You won't have to turn around and replace it next season.
The list price of Weber's Q 1200 is right around $200. Different stores or websites have sales or deals available. If you can, try to buy it at the end of the summer or during the off-season when you are most likely to find the best prices, and the demand is lower.
Warranty
As a company, Weber is known for its extended warranties and quality products. The Q-series of grills upholds that reputation.
The warranty length depends on the part of the grill. The lid, burner tubes, cooking grates, plastic parts, and cookbox come with a five-year warranty, as long as there's no rust. All other parts have a two-year guarantee.
Final verdict / Should you buy it?
The Weber Q 1200 is the perfect portable gas grill for those who don't need to travel too far. For grilling in campgrounds, at tailgates, or on a patio without space for a permanent unit, it checks every box.
The cooking surface maintains even heating and cleans without much effort. You can feed many people and aren't limited to what cooks well. Anything you can grill tastes delicious off the grates of the Q 1200.
If you need a lightweight or cheap grill, it might be best to look elsewhere. The unit is heavy and awkward to carry over long distances. It is also not a discount option; there are many more affordable comparable grills on the market.
Other grills don't have the quality and durability of a Weber, though. When you pay for the brand name, you purchase a long warranty and confidence that you have a grill worthy of the investment. No off-brand grill backs its manufacturing for five years.