The Weber Spirit II E-210 compact grill got a significant facelift in 2018. The company added a handful of new and exciting features to make it more appealing and competitive in the market.
Before we dive deep, we'd like to point out that this is an entry-level product in a series of grills produced by Weber. It's small, affordable, and doesn't come with high tech features other grills have.
Weber Spirit II E-210 Review
Despite being an entry-level compact grill, the Weber Spirit II E-210 is a cleverly designed and solidly built product that a small family can depend on for well-grilled food for years.
Perhaps this explains why it is popular with young families who prefer a small cookout on the balcony rather than a backyard filled with friends or a large family.
Weber Spirit II E-210

Total Cooking Surface:

450 sq. in.

Warranty:

10 Years

BTU:

26.500

Top Features:

GS4 Grilling System, Open Cart, 4 Color Options

Check Latest Price →
What I like about the Weber Spirit II
The grill looks great and comes in a variety of color options.
It has a propane gas tank scale that lets you estimate how much gas is left.
Open cart design with six hooks makes it easy to organize tools and extend working space.
Tapered burners with Flavorizer bars ensure heat distribution, conserve heat, and make food more flavorful.
What I don't like
It costs more than grills of similar size and with comparable features.
I have a more detailed buying guide which includes my other favorite gas grills for every situation.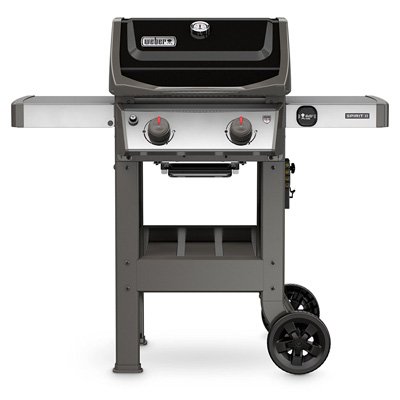 Key specifications:
Cooking area: It provides 360 square inches of primary cooking area with two liquid propane burners and an extra 90 square inches warming rack. The grill features a modern GS4 Grilling System, a standard feature in the grilling world. Burners use the infinity ignition system, while the surfaces are easier to clean and maintain. Each component in the GS4 system provides a premium grilling experience.
Grates: The Weber Spirit II E-210 has porcelain-enameled cooking grates made from cast iron. As well as giving the grill its premium clean look, grates also make the grill reliable and durable. Grates have varying widths. One side is thinner, and this makes it possible for users to grill delicate foods like sushi perfectly. The thicker end lets users improve the taste of already cooked food.
Burners: Two main stainless steel burners provide up to 26,500 BTU (British Thermal Unit) per hour of heat. Considering the 360 square inches of grill space, this translates to 73 BTU per square inch per hour.
Build: It measures 48 inches wide, 26 inches long, 57 inches with the lid ajar, and 44.5 inches with the lid closed. Available colors are black, red, ivory, and sapphire.
Build quality
Anyone who's used Weber products can attest to the appealing looks, functionality, and durability of their cooking ware and grills. Weber Spirit E-210 looks to continue its tradition of high-quality craftwork ( with 10 Years Warranty ).
The cast aluminum of the cook box and shroud is a major build feature that makes the grill lighter yet more durable than other brands that use sheet metal. The porcelain-enameled shroud makes the grill resistant to rust, fading, and peeling caused by the elements.
The newly redesigned E-210 grill offers many tech features that a user quickly gets used to and that any decent grill should have.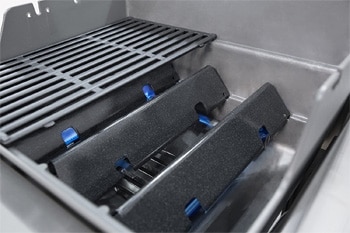 Buyers repeatedly point out the difference in grilling experience this grill brings after using cheap gas grills for years. Many buyers have described it as a "game-changer" in the grilling world.
Cleaning
Other than making the Weber Spirit II more durable, visually attractive, and less susceptible to element damages, the porcelain-enameled surface also makes cleaning a breeze. All it takes is to wipe the grill with a wet cloth to get it ready for use or storage.
The Flavorizer bars are perfectly angled to trap burning smoke and sizzle. The bars improve the taste of the grilled food as well as solve the problem of unvaporized drippings, which was common with the original Weber Spirit grill.
The Flavorizers funnel away the drippings from the burners to a drip tray under the cook box, meaning that the greasy mess that is a problem with most grills is not an issue. You need to replace the drip tray, and that's it.
Design and assembly
Most people tend to consider the design and appearance of a grill before they make a move to buy. Function or features notwithstanding, the aesthetic appeal will override every other thing. Weber Spirit II is a superbly designed and well-built gas grill. You will love how it looks even before you light the fire. Not only does it look classy, but it also has intuitive controls that make cooking easy and fun.
The grill comes with multiple key features conveniently placed so as not to obstruct the process of lighting up the burners or cleaning the grill after cooking. Two immobile legs provide the stability and grip you need when to cook on uneven surfaces. Moving it shouldn't be a problem as it comes with wheels. Weighing 103 pounds, Weber Spirit II E-210 features an open cart design with six hooks and Flavorizer bars as well as cast iron grates.
Performance
The 2018 upgrade of the Weber Spirit gas grill to Spirit II involved a complete redesign as well as the addition of new features. Weber banked on the latest tools and features in this entry-level grill to win over a performance-centric market. Some of the new features in the redesigned grill include:
Infinity Ignition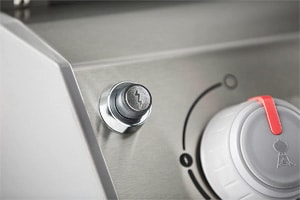 Looking at multiple buyer reviews, Weber seems to have won the hearts of shoppers looking for high-performance entry-level gas grills. The selling point is the Infinity Ignition.
Not only is the redesigned grill convenient to use, but visually appealing and fuel-efficient. Its burner tubes supply a consistent flow of gas to both burners, helping improve fuel economy at the same time ensuring food cooks evenly.
Open cart design
The Weber Spirit II gas grill features an open cart design with a side table with hooks to make the grilling experience pleasurable and free of hassles. The side-folding table is an invaluable addition to the design of the grill because it provides sufficient space to extend the cooking process. You can place all the cooking ingredients and prepare them comfortably. While the Spirit II is a budget compact grill, the open cart design sums up just what it takes to convert it into a dream grill for any cost-conscious customer.
Price
Compared to small gas grills from other brands with comparable features, the Weber Spirit II E-210 is somehow more expensive than the average grill. Reviewers and customers may argue the higher price is justifiable for the larger grilling area, sturdier build, and even techy features such as fuel-saving Infinity Ignition. Whether these features are worth the $349 price depends entirely on the buyer.
Final Verdict
Many people are becoming conscious of global warming and how the little things they do impact our planet.
It is for this and other reasons that buyers are choosing compact gas grills such as the Weber Spirit II E-210 that has a focus on design, performance, and fuel efficiency.
Weber Spirit II E-210

Total Cooking Surface:

450 sq. in.

Warranty:

10 Years

BTU:

26.500

Top Features:

GS4 Grilling System, Open Cart, 4 Color Options

Check Latest Price →
If you are shopping for a one-of-a-kind gas grill that is a step up from previous models, the Weber Spirit II E-210 could be the right grill for you. It is easy to use, easy to maintain, and comes with premium features that make grilling fun.
You'll pay a bit more to get your hands on this piece than a regular grill, but the extra cost is worth it.