Sometimes, it's challenging to pinpoint what makes one grill stand out from another—they all heat up quickly and have a surface that's perfect for cooking food.
A grill's value comes from its durability, ease of use, how evenly it cooks, and a variety of features.
The Weber brand has been around for many years. It's one brand that you can confidently trust, as many around the world can attest.
The Spirit II E-310 lives up to the standards that you expect from its manufacturer, Weber. It is a high-quality cooker with helpful features, cool technological additions, and a lengthy warranty to support your choice.
Keep reading for my full Weber Spirit II E-310 Review.
Weber Spirit II E-310 Overview
The Weber Spirit II E-310 is a reliable outdoor cooking tool, perfect for those learning to grill or people who don't need all the bells and whistles that you would find on premium options. It gets the job done well without breaking the bank or requiring time-consuming upkeep.
Weber Spirit II E-310

Main Space:

424 sq. in.

Rack Space:

105 sq. in.

BTU:

30000

Burners:

3

Check Latest Price →
What I like:
There is so much to like about the Weber Spirit II E-310. The battery-powered Infinity Ignition system lights all the burners with one press of a button. Plus, the Bluetooth thermometers ensure that you always know what's happening underneath the lid.
It's hard to ruin your food with this easy setup.
Cleanup is quick, thanks to the slide-out grease management system. Other grills require many steps to remove the residue from all the internal parts of the unit. With the Weber Spirit II E-130, you can dump the grease, and then your work is complete.
You have many options when it comes to the customization of the Spirit II E-310, too. It comes with either two or three burners, and there is an impressive list of colors, including black, ivory, red, sapphire, mocha, and stainless.
The 10-year warranty on all parts combined with customer service agents who are available daily is another check in the "yes" column for this versatile grill.
What I don't like:
My one complaint is that the Weber Spirit II E-310 runs hotter at the back than the front. The negative point is a common problem for many grills—it can cause part of your food to burn, while the other half remains undercooked.
With the iGrill 3 digital Bluetooth thermometer, this problem is manageable. Knowledge of the temperature of both your cooking surface and inside your meat clears up the uncertainty. With this information, you can cook food evenly with every meal.
Design & Build Quality
Companies that fail to provide quality manufacturing don't stay in business for long. Weber worked hard to become a household name when it comes to outdoor cooking, and the E-310 certainly lives up to the established brand reputation.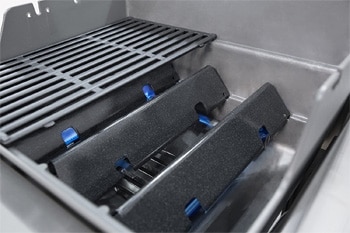 The setup has a flip-up lid with work surfaces on either side. An open shelf sits below the grill for tool storage that's only a quick reach away.
The propane is off to the side for easier access when swapping tanks or opening the lines.
Older models have had the tanks below, which made it more difficult to reach the propane or natural gas connections.
GS4 Grilling System
The innovative GS4 grilling system built into the Spirit II E-310 includes the infinity ignition setup, expansive Flavorizer Bars, and high-powered burners. Combined, these additions make a powerful cooktop that's easy to control.
The ignition system is battery-powered and lights the 10,000 BTU stainless-steel burners with one button. You won't have to fumble with lighters or wait hours for your grill to reach the right temperature.
The porcelain-enameled steel Flavorizer Bars cover the burners to facilitate even, fast cooking.
iGrill 3
The iGrill 3 is a Bluetooth bbq thermometer designed exclusively for this function. It enables you to cook your food with exceptional accuracy.
Two separate probes let you measure both the temperature of the cooking surface and the internal temperature of your meat.
The setup solves the age-old problem of unreliable grill thermometers. Other units only measure the surface temperature at the top of the grill lid, but that is not an accurate indication of what's happening inside the meat.
The one downside is that you have to use your phone while cooking because there is no physical readout available. Instead of looking at the grill itself, your device contains all the data within an app.
The benefits significantly outweigh this one downside, though.
Cleaning
Unlike some grills that take longer to clean than to use, the E-310 is quick and simple—the secret is in the innovative grease management system.
Older models of the Weber Spirit had the grease tray built into the burner area, but this version brings smart upgrades with a separate capture unit. Grease now flows to a slide-out tray on the side of the cooking area.
The separated grease tray acts as a drawer—all you do is pull the grease trap out and dump it. There are even disposable foil liners so that you don't have to deal with cleaning the tray.
Assembly
Weber's Spirit II E-310 comes with clear directions and everything you need to put it together. Some tools will make the process easier, but it isn't necessary.
If you don't have much experience assembling with tools, building a grill by yourself may seem daunting. One wrong step could lead to damages or injuries, right? Don't worry. Weber keeps this in mind and makes setup foolproof and straightforward.
In the instance that your pieces don't fit together, or you find yourself lost in what the build manual instructs, you can take advantage of Weber's incredible customer service team.
Stores like Home Depot offer help as well.
Performance
The Spirit II model grill has decent heat distribution and the sizzle you might expect from a quality outdoor cooker. The secret is the Flavorizer Bars that cross the burners—these metal heat tents disperse the warmth so that food cooks evenly.
Cheap gas grills use one tent across each flame, which leads to inadequate heat distribution and frustratingly uneven cooking. Weber instead covers the entire cook box with heat spreaders.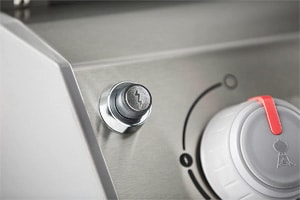 The sturdy construction of the grilling unit combines with an innovative cleaning system, quick-start ignition, and technology-enhanced temperature control to further improve performance.
It makes Weber's E-310 a setup that will bring joy over many barbecue seasons.
Fuel Type
The E-310 works with either propane or natural gas. It's crucial to check that you've got the right fittings for your fuel type before you hook it up and begin cooking.
Both gas types work with the Infinity Ignition system, and you can light all the burners with a click of a button.
Price
Cheap grills may save you money upfront, but then you'll find yourself replacing it every couple of years. The Weber brand, however, is built to last.
The products seem expensive when compared to similar models from other brands, but the price is worth the confidence and longevity that comes from using an established manufacturer.
You can often find the models at lower prices at the end of the season or on sale at your local stores, though.
Work space
The Spirit II E-310 has ample workspace for a unit of this size. There is a warming rack in addition to two side shelves. You can also fold the left shelf down out of the way when not in use.
As a bonus, both side shelves have tool hooks. Keeping your cooking items tucked away frees up more counter space while you're working.
Warranty
Over the years, many companies have shrunk the warranty terms, but not Weber. The company covered two to five years for most parts of the grill, but now, there's a ten-year warranty for everything.
The trusted brand also has outstanding customer service available seven days a week to help with your claims.
Final Verdict / Should you buy it?
The Weber Spirit II E-310 is a quality, mid-range gas grill that will hold up to years of use. The gas-powered cooker distributes heat evenly, doesn't require extra steps to clean, and is an efficient use of space.
It may not have as many features as other models on the market, but it gets the job done beautifully. The extended warranty also provides peace of mind that your investment will last.
Weber Spirit II E-310

Main Space:

424 sq. in.

Rack Space:

105 sq. in.

BTU:

30000

Burners:

3

Check Latest Price →
The grill is the ideal purchase for you if you're planning on cooking the barbecue basics and don't plan on expanding your repertoire anytime soon. If you need a starter grill that you'll replace in a couple of years or require all the latest and greatest accessories, then you are better off with a different purchase.