Today's post will be related to the topic of Weber Spirit vs Genesis. I know that it is a popular question, which is why I will try to take an objective look on the topic and help you decide which series will be better for you.
Regardless of what Weber series we're talking about, one has to admit that they keep developing their products. Every year, the manufacturer introduces plenty of changes in their grills, which is what grilling lovers wait for.
Together with frequent changes and different offers available, questions arise on which of the Weber product series is better? It is a pretty complicated question to answer it briefly, which is why I decided to compare both series so that you can draw your own conclusions.
Which series of gas grills from weber suits your situation better is something you will learn by reading the whole article. If you're in a huge rush, however, I have prepared a brief summary in form of a table below.
Best Value for the money

Weber Spirit II E-310

Total Cooking Surface:

526 sq. in.

Warranty:

10 Years

BTU:

30.000

Top Features:

GS4 Grilling System, Open Cart, 4 Color Options

Check Latest Price →

Best Upgrade Pick

Weber Genesis II E-335

Total Cooking Surface:

669 sq. in.

Warranty:

10 Years

BTU:

37.500

Top Features:

Sear Station Burner, Side Burner, GS4 Grilling System, Cabinet or Open Cart Style

Check Latest Price →
Before I move on to the individual summary for each series, I want to emphasize that Spirit II and Genesis II are actually phenomenal gas grills. The Spirit II series without a doubt stands out with its great value, which is what most people choose it for. Genesis II on the other hand is a mid range grill from Weber that has an advantage over Spirit II with its slightly better execution and many different features ( sear burner, side burner etc ).
It is not without a reason that these two series occupy the top spots in my gas grill ranking. You can check my ranking under in guide to the best gas grills. 
In a nutshell, the Spirit II series is the best value when it comes to the ratio of price to what you get. It is a perfect choice for beginners as well as those who want to buy an efficient and durable gas grill with all the basic features and a brilliant 10 year warranty at an affordable price.
However, if grilling is your passion and you expect something more, then consider the Genesis II series. It's a suggestion for those who expect more space and most of all plenty useful features ( sear station and side burner ). The current Genesis series offers a lot of configuration so you can easily choose something perfect for yourself. You can choose among different colors, sizes, numbers of burners, closed or open structure and more…
Both series are available in a propane or natural gas version. Remember that once you choose one of them, there is no turning back. Which means that if you buy the propane version you won't be able to use natural gas or any converter for this purpose.
| #Feature | Spirit | Genesis |
| --- | --- | --- |
| Number of Main Burners | Two or three burner versions available | Currently there are versions with two to four burners available ( the older version offered up to 6 burners ). |
| Grilling area | The three burner version lives up to most people's expectations but if you cook for a bigger number of people, you might run out of that space. | The two and three burner versions offer a little bit more space than the Spirit models with the same number of burners. For more demanding people, Genesis offers even bigger models. |
| Color scheme | All models are available in four different colors ( ivory, black, sapphire, red, exclusive mocha ) | Depending on the configuration you pick, you have several colors to choose from ( other than the Spirit II series ). Copper, Black, Crimson (shown) or Smoke. |
| Sear Station Burner | None | Available with a configuration |
| Side Burner | None |  Available with a configuration |
| Warranty |  10 years of warranty |  10 years of warranty |
| Structure Style Design | The current series just sticks to the open cart. | Weber went for the ability to choose, which is great news. Depending on your taste, you can choose between the open cart version, and the Cabinet. |
| Compatibility with iGrill 3 | Compatible | Compatible |
| Lid Handle | Plastic | Steel |
| GS4 Grilling System | Yes | Yes |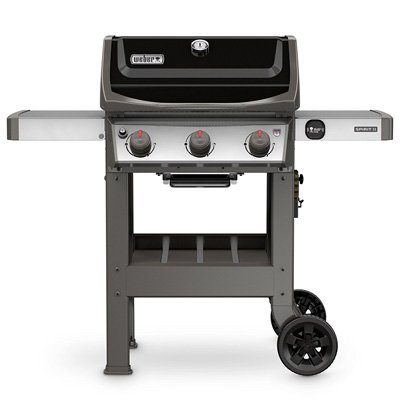 Spirit II – When it comes to money, Spirit II undoubtedly stands out with the best value. It lacks additional features, but in this series they mostly focused on quality, efficiency and basic features.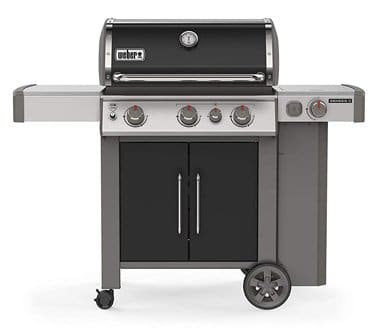 Genesis II – A machine much more expensive due to the additional features ( sear station or side burner ). An option for more demanding people who expect something more than the great yet basic Spirit II series gas grill.
Both series undoubtedly represent the same high level of workmanship, quality and most of all efficiency. Which means the decision of which one to choose mostly depends on whether you need a little more space or several useful gadgets. An additional advantage in favor of Genesis II to many people is certainly the closed style of the structure with front door.
Table Comparison of all models
| Model | Burners | Primary Grilling Area | btu/hr | Side burner | Sear station |
| --- | --- | --- | --- | --- | --- |
| Spirit II E 210 | 2 | 360 | 26,500 | No | No |
| Spirit II E 310 | 3 | 424 | 30,000 | No | No |
| Genesis II E 310 | 3 | 513 | 39,000 | No | No |
| Genesis II E 330 | 3 | 513 | 39,000 | Yes | Yes |
| Genesis II E 410 | 4 | 646 | 48,000 | No | No |
| Genesis II E 435 | 4 | 646 | 48,000 | Yes | Yes |
Spirit vs Genesis – The difference in details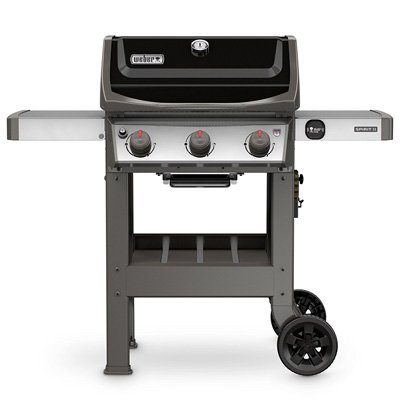 The latest, completely refreshed version of spirit II focuses on slightly less demanding customers (entry-level gas grill line), who however value efficiency and convenient price. It is great for those who are just starting their adventure with this type of grill and want to buy their first gas grill without worrying about quality and efficiency.
It comes with all the necessary tools and features for grilling of the top quality. Despite its price, the spirit II series is covered with whole 10 years of full manufacturer's warranty. It is very important news, especially for those who have never run across the Weber brand before.
Spirit II is right now only offering two and three burner models, each of them available in the propane or natural gas version. More on specifications of particular models can be found below, in the meantime I will focus on the overall rating of the entire series.
Let me list the main key features of Spirit II:
GS4 Grilling System – This system includes burners, flavorizer bars, grease management system and a great ignition system. All those 4 elements ensure the best possible efficiency and reliability every time you start the burners. On top of that, they effectively limit flare-ups, ensure even heating up and drain all the grease right into a special tray that can be easily emptied.
Open structure – Compared to the previous version, it is a mega change, Spirit II is characterized by its open structure without the front door. Together with that change, the way the propane tank is installed also changes. This time the place to put the tank is outside the grill, which makes it much more convenient to hook up.
Available in different colors – The ability to choose a new color is certainly something expected by many. You can choose out of ivory, black, sapphire, red, exclusive mocha versions for Lowe's and exclusive stainless steel versions for Home Depot.
2 and 3 burner configurations – You only have two options to choose from when it comes to the number of burners. Both models are available in a propane or natural gas version. The Spirit II series was designed with less demanding people in mind. If you expect much more area and features then check out the Genesis II series.
Warranty – One of the biggest upsides of the series, at this kind of price you get not only a great grill but also 10 years of warranty. It only confirms that the manufacturer is clearly aware of the quality of their product. Despite that, the Spirit II series is basic.
iGrill 3 – Let me make it clear right away that it is a feature sold separately. It is worth reminding, however, that the Spirit II series is compatible with iGrill 3.
Wheels – Much bigger and more durable wheels were chosen on one side. It should make it easier to transport the grill around rough terrain, plus a side shelf lock was implemented which adds more convenience to transportation.
Drip Pan – The pan was designed in a way that allows to easily remove it and throw out the grease tray if needed. It is located in the central part of the grills ( under the cookbox of the grill ) so you can remove it quickly and easily at any moment.
Foldable side shelves – You want to save some space when the grill is not in use? The new side shelves were designed with such situation in mind, which allows you to fold them any time.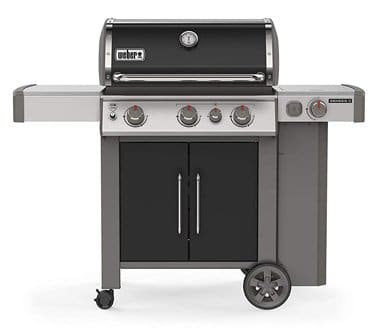 You expect something more? For this kind of people, the Genesis II series was made, which comes with much bigger configuration options. You have many more features at your disposal, and most of all a bigger cooking area. If you're a real master of grilling and spend a whole lot of time cooking on a grill then consider the Genesis II series.
Genesis II is more expensive than the Spirit II series due to a bigger number of features. Genesis II is a high quality gas grills for those who expect something more than what the Spirit II series can give them.
Besides the main burners, the latest series also offers several additional ones, like the side burner or the sear burner. Of course it is possible to buy a version without additional burners but I have to admit that they are worth having.
When it comes to the quality of workmanship and of elements, both versions don't differ that much. Genesis II mostly stands out with its thicker lid than in Spirit II. The rest, on the other hand, remains on the same high level which once again can be proved by the great 10 year full warranty.
Main key features and solutions in Genesis II:
2, 3 and 4 main burner configurations – Just as I mentioned before, the Genesis series comes with many different configurations. Currently you have two to four main burners at your disposal ( the older Genesis series offered as many as 6 burner model ).
Open Car or Cabinet – Another change is the ability to choose the structure style. You can choose an open structure or a closed one with front door ( cabinet ). I know that many people prefer the version with door, which is not present in the current Spirit II series.
Color Scheme – This time there are as many as 4 color configurations available, depending on the model – copper, black, crimson (shown) or smoke. As you can see, the choice of colors is to a large degree different from that in the Spirit II series.
Sear Station burner – You love delicious looking sear marks on the food's surface? For that, you need high enough temperature. Sear Station is few smaller burners located close to each other, the purpose of which is to achieve a high temperature in a very short time. Of course without that feature you can still sear on a grill, but it will take much more time.
Side Burner – The side burner is a useful addition in a grill, but a relatively expensive one, too. It offers a lot of possibilities, the way it works is reminiscent of a household gas stove. You can boil water on it, heat up food or prepare sides, there are many choices. Another upside of such burner is being concealed under the lid in a side shelf.
Warranty – Similarly to the version Spirit II, Genesis II is also covered with 10 years of full warranty. Both versions are made of high quality materials so in both cases there is nothing to worry about when it comes to quality and durability.
GS4 Grilling System – Let me remind once again of what this system consists of, the grease management system, the ignition system, the burners and the flavorizer bars. All of that is there to provide you with the best possible grilling experience. The whole system takes care of the best possible efficiency of the grill, even heating and easy grease removal.
Compatibility with iGrill 3 – It couldn't be any different, Genesis II also supports the iGrill 3 technology. Sadly, in this case the gadget is sold separately as well.