Weber vs Char-Broil is a pretty popular and interesting discussion topic to many, which is why I took it upon myself to prepare an objective article on it. I will mostly focus on comparing gas grills from both manufacturers, but most of my observations will be up to date when it comes to other types of their grills.
Right below you will find my overall opinion on both manufacturers and the entire offer of their grills. In the second part of the article, on the other hand, I will compare two models of gas grills with the same number of burners and similar sizes.
When it comes to both manufacturers, the gas grill offer is big. For the purposes of this article I chose Weber Spirit II E-210 (2-Burner) and Char-Broil Performance 300 (2-Burner Cabinet) for comparison. Both models are characterized by the same number of burners and a similar size (cooking area).
The Weber Spirit II E-210 is my choice because of Great value for the money, useful features & great warranty !
10 Years Warranty
High Quality
Efficient and durable grill
Porcelain-enameled, cast iron grates
Best entry-level gas grill for the money
Weber vs Char Broil – Summary
If you were to look at both brands, you could come to one important conclusion. Both manufacturers manufacture nothing but grills but they differ a lot in terms of the products offered.
Weber offers much more expensive models, but at the same time they are much more durable and efficient, whereas Char-Broil mostly offers models for those with a limited budget. Their grills are good, but only for a few seasons as at this kind of price it's hard to build something durable.
Weber – The top brand among manufacturers that is famous for a great offer of not only gas grills but also charcoal ones and smokers. Their products are slightly more expensive but they make up for it with great quality, which can be confirmed by 10 years of warranty for most models. Their offer includes simple, basic models that are great for those beginning on their journey with grilling as well as high-quality models with many features for those experienced and with much bigger expectations. Another huge upside is the customer service when shopping and in the event of any problems after the purchase.
Char-Broil – Another pretty popular brand that manufactures many types of grills and even smokers. Their products are available at low prices that are convenient to most people with a limited budget. Sadly, the low price also means poorer quality of materials and workmanship so you have to be aware that most of their gas grills are an investment for just a few seasons. On top of that, their grills don't come with too many interesting gadgets or interesting useful features. Char-Broil is a great choice for those with a very limited budget who need a big and efficient gas grill at a low price for just a few seasons.
Char-Broil vs Weber – difference in details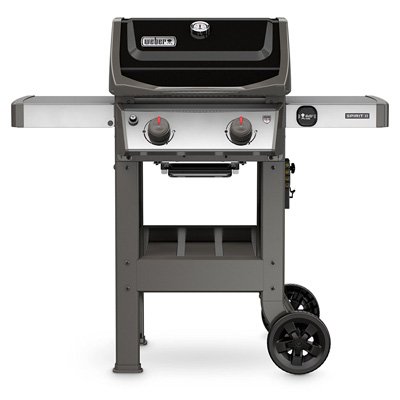 The latest Spirit II series has introduced plenty of fresh things on the gas grill market and strongly confirmed that Weber manufactures the best grills at the best possible prices. Weber Spirit II E-210 is a suggestion for those who need a slightly smaller yet still a very efficient and most of all durable grill.
For those with any doubts regarding quality, Weber has introduced whole 10 years of full warranty.
It was equipped with two very strong and durable burners that are great at handling the total area of 450 square inches. It comes with all the features required for convenient grilling plus several gadgets.
A disputed matter is the open structure type instead of the "cabinet" type with front door. I know that not everyone likes it and it's a little shame that Spirit II is not available in both versions to choose from.
Currently there is no manufacturer on the market that can compete with the gas grill offer from Weber. The Spirit II E-210 model has the best quality to price ratio and makes a great investment for years to come, which is why a model from this series takes the first place in my ranking as the best gas grill.                                                       
The Spirit II series is a so-called "entry-level" gas grill that will be great for beginners while also meeting all the expectations of much more demanding and experienced people.
10 years of warranty – When you see this kind of information, there is nothing to worry about in a slightly higher price for the grill since the manufacturer guarantees so many years of taking care of your purchase.
GS4 grilling system – The whole system consists of four elements such as; porcelain-enameled Flavorizer Bars, burners, grease Management system and Infinity ignition system.
Porcelain-Enameled Cast Iron Cooking Grates – Top-quality grill grates, very easy to clean and durable, and the special coating prevents food from sticking.
Available in four different colors – You have as many as 4 color combinations to choose from, a very neat solution that will add a lot of freshness in the backyard visually speaking.
iGrill3 (Sold separately) – It is possible to buy a very neat gadget that makes it possible to connect with the grill using a phone app. It allows to monitor and modify the grilling process on the screen of a mobile device such as a tablet or smartphone. The application makes it possible to check the temperature inside the grill and the temperature inside the meat while away from the grill.
Foldable side shelves, hooks etc – The structure was thought-out well enough to make the grilling comfort as high as possible. The hooks are the place for your grilling tools, just like the free space right under the grill.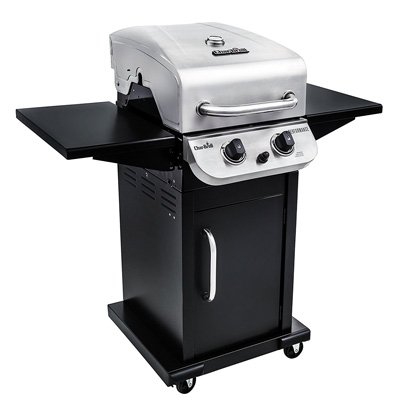 Char Broil Performance 300 ( 2-Burner Cabinet )
I picked this model due to its similar size and number of burners. It is actually in my opinion also one of the best Char-Broil models considering the quality, efficiency, durability and price.
Char-Broil Performance 300 ( 2-burner Cabinet ) is cheaper than Weber Spirit II E-210 nearly by a half. Therefore in terms of the price it is definitely the winner, but sadly it translates to a slightly poorer quality of materials and durability.
It is a good grill at a low price that should be enough for many seasons. When it comes to size, it has a little less space, a total of 400 square inches of cooking area.
It was also equipped with two decent burners that can easily handle the entire area of this small-sized grill.
It is a very simple gas grill without any gadgets or features which makes it available at a slightly lower price. A great choice as the "first grill" for beginners or those with a limited budget.
This investment should last you for a few years, after that time it's a good idea to think about something much more durable. The most important thing in the final result is the price to reliability ratio, and when it comes to Char-Broil Performance 300 it is much inferior to Weber Spirit II E-210.
A "cabinet" type structure with front door – The looks depend on taste, but a lot of people prefer this exact type of gas grill structure. On top of that, after opening the front door you get a lot of safe space to store your things.
Foldable side shelves, wheels etc – All solutions of this kind increase the mobility and convenience when grilling, which means the more of them the better.
Low Price – One of the biggest advantages of this model is its price compared to what it has to offer. The efficiency and functionality are very high-level, although one downside is durability of the entire structure and individual elements.
You care about quality and durability ? Pick Weber, which will let you be sure for many years to come. The price is much higher, but the quality, efficiency, features and warranty make up for the much higher price tag 100%.
You have a very limited budget and need a great grill at a low price ? Pick Char-Broil but keep in mind that it will be an investment only for a few seasons. The low price is a result of using poorer quality materials, which leads to much lower durability.